Greater role of ASEAN expected in addressing Rohingya ethnic cleansing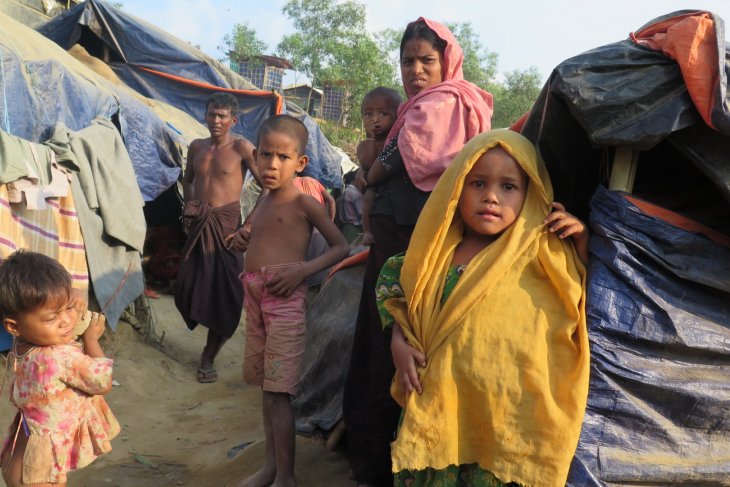 Jakarta, MINA — A report released by United Nations-appointed investigators in August 2018, underlined the horrific and organized nature of the brutality meted out on civilians in Myanmar`s Rakhine state since 2011, as well as Kachin and Shan states.
The investigation was conducted by a team called the Independent International Fact-Finding Mission on Myanmar, following the mass exodus of more than 700,000 Rohingya people from Myanmar to Bangladesh last year – events previously described by the UN High Commissioner for Human Rights as a "textbook example of ethnic cleansing", according to UN News.
The investigators – Marzuki Darusman, Radhika Coomaraswamy and Christopher Sidoti – recommended that top military commanders in Myanmar should be investigated and prosecuted for the "gravest" crimes against civilians under international law, including genocide.
Myanmar has denied most of the allegations in the report.
The genocide in Rakhine State is a disgrace to ASEAN as it happens in its own yard, namely Myanmar, one of the 10 member countries of ASEAN – Indonesia, Malaysia, Singapore, Thailand, the Philippines, Brunei Darussalam, Vietnam, Cambodia, Laos and Myanmar.
During the 33rd ASEAN Summit held in Singapore on Nov 11-15, 2018, ASEAN called the refugee crisis in Myanmar "a matter of concern" , a rare departure from ASEAN`s principle of noninterference in the internal affairs of members.
"We discussed and received a briefing from Myanmar on the humanitarian situation in Rakhine State, which is a matter of concern," said the chairman`s statement from the ASEAN summit held on Nov 13, without mentioning the word "Rohingya," the name of the Muslim minority group fleeing persecution in Myanmar.
While showing support for Myanmar toward resolving the issue, the statement also urged a commission established by Myanmar`s government to "seek accountability by carrying out an independent and impartial investigation of the alleged human rights violations and related issues."
It also urged "a comprehensive and durable solution" to address the root causes of the conflict.
Aung San Suu Kyi just silent
Dr Mahathir, Prime Minister of Malaysia, at a press conference in Singapore, said: "I think ASEAN leaders are very diplomatic. We do not make strong statements against each other."
Mahathir said Nobel Peace Prize laureate Suu Kyi was "trying to defend the indefensible" in justifying violence by Myanmar security forces against Rohingya in Rakhine state.
Myanmar`s de facto leader, Aung San Suu Kyi, joining the summit in Singapore, has been widely criticized for her silent regarding the crisis.
Amnesty International recently had withdrawn its most prestigious human rights prize from Suu Kyi, accusing her of perpetuating human rights abuses by not speaking out about violence against the Rohingya.
Indonesian President Joko Widodo (Jokowi), is just few leaders who spoke about Rohingya crisis in their addresses during the summit.
The humanitarian crisis in Rakhine State is still ongoing and has triggered concern and created a trust deficit in the international community. The Rohingya problem has become a regional crisis.
Indonesia expressed hope for a step forward to address the humanitarian crisis, he noted.
"Indonesia is ready! I am sure, the ASEAN is also ready to help the Myanmar government to create a conducive condition in Rakhine State, where freedom of movement should be respected, and there is no more discrimination, and development could be carried out inclusively," Jokowi said at the plenary session held at the Suntec Convention and Exhibition Center in Singapore on Nov 13.
ASEAN needs to get involved in settling the question of the Rakhine state, he said adding if the crisis goes unheeded it will have a detrimental impact on Myanmar in particular and ASEAN in general.
In a bilateral meeting with US Vice President Mike Pence held on Nov 14 on the sidelines of the Summit, Jokowi called on the United States to help support the ASEAN Coordinating Centre for Humanitarian Assistance on Disaster Management (AHA Center), which is expected to help address the Rohingya Crisis.
"We conveyed that we need US support for the AHA Center so that we can carry out tasks or mandates given by ASEAN leaders to play a role in Rakhine State," Foreign Affairs Minister Retno Marsudi said.
The AHA Center is an inter-governmental organization that aims to facilitate cooperation and coordination among ASEAN member states and with the United Nations and international organizations for disaster management  and emergency response in the ASEAN region.
On the same day, Pence told Myanmar leader Aung San Suu Kyi that the violence and persecution by her country`s military and vigilantes that sent more than 700,000 Rohingya Muslims fleeing to Bangladesh was inexcusable.
The United States was anxious to hear of progress in holding people accountable for the Rohingya crisis, he said. Suu Kyi responded that people have different views.
Meanwhile, Thai Prime Minister Prayut Chan-o-cha told his ASEAN colleagues that Thailand, which will chair ASEAN next year, viewed ASEAN as capable of playing an important role in addressing the situation in Rakhine state in a constructive, tangible and sustainable manner.
The group should enhance the AHA Centre in providing humanitarian assistance to affected people, support the commencement of credible repatriation on a meaningful scale and the improvement of the quality of life for all communities in Rakhine state, a source quoted Prayut as telling the meeting, according to Thai media.
Thailand is ready to support a greater ASEAN role in resolving the Rakhine crisis, as the group prepared mechanisms to deal with the plight of hundreds of thousands of Rohingya Muslims who face repatriation amid grave concerns about their future.  (T/RS5/RS1)
Mi'raj Islamic News Agency (MINA)