MORSI'S LAWYERS CALL ON UN TO INVESTIGATE SISI LEAKS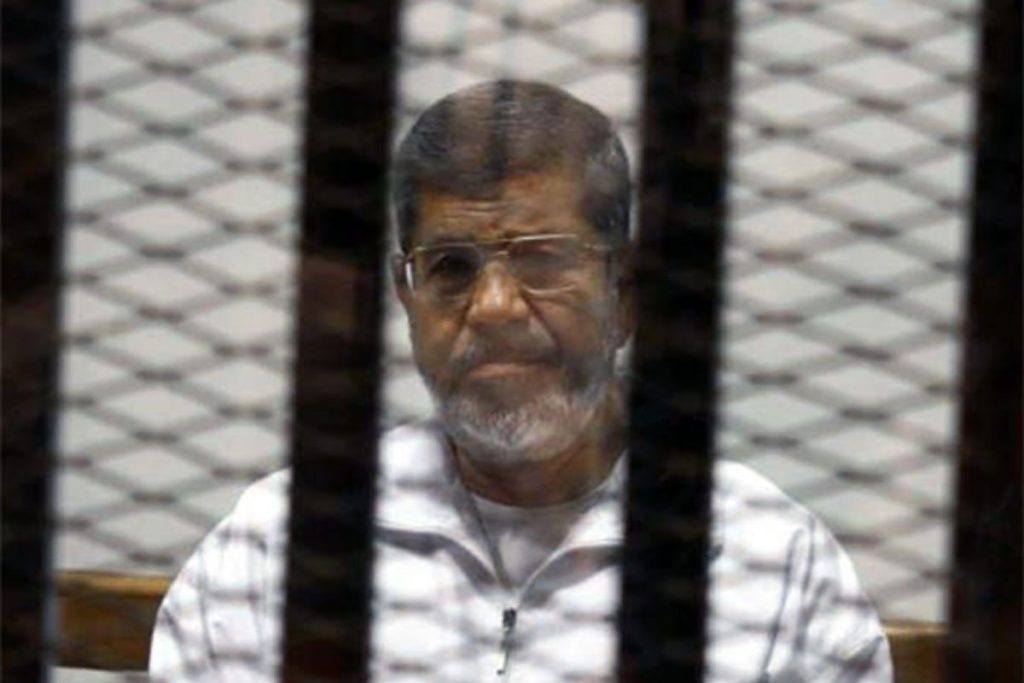 Cairo, 15 Safar 1436/8 December 2014 (MINA) – Lawyers representing ousted Egyptian president Mohammed Morsi have called on the UN to investigate recordings leaked from President Abdel Fattah el-Sisi's office and released late Thursday.
The recordings of discussions between high-level ministers, first published by satellite channel al-Mukammaleen, appear to reveal Morsi's illegal detention after he was ousted in July 2013, Middle East Eye quoted by Mi'raj Islamic News Agency (MINA) as reporting.
"This recording, if confirmed, reveals the full extent of the military regime's deception," said Tayab Ali, partner at ITN Solicitors in London and a member of Morsi's legal team, in a statement released late Friday. "My clients have always maintained that there was no lawful basis for the coup or the subsequent steps taken against the [Freedom and Justice Party] and its members."
"It is imperative that an independent investigation takes place as a matter of urgency in order to determine whether there was a conspiracy of the nature detailed in these recordings to overthrow Egypt's first elected civilian," Ali said in the statement. "The Egyptian prosecutor should release President Morsi immediately."
During the 17 minute recording,  General Mamdouh Shahin, a legal advisor to the state's military council, appears to warn the head of Sisi's office, General Abbas Kamel, that the case against Morsi is in danger of collapsing.
Shahin apparently tells Kamel that, following his toppling from power in July 2013, authorities failed to detain Morsi in prisons run by Egypt's Interior Ministry, instead holding him in a building owned by military ground forces, under the leadership of General Osama al-Gundi.
"The attorney general is requesting fabrication of detention date to an older period or anything," General Shahin can be heard to say. "Minister of Interior should meet me tomorrow at the prison service and give me the name of the building and we mention a descriptive name, for example – the building 'blah blah' will be allocated but he shouldn't mention inside a military unit."
In the recording, they say they are fearful that lawyers defending Morsi might attempt to visit the place where he is being detained.
"They're claiming that the military kidnapped him [Morsi] and placed him in a military unit," says one. "They detained him in an illegal place."
"Yes, illegal," another replies.
During the clips, men can be heard shouting at each other. Egypt's public prosecutor is alleged, on the tapes, to urge officials, including the Interior Minister Mohammed Ibrahim, to solve the crisis "in any way possible".
They also discuss methods of disguising the military unit as a civilian prison
"Guys, we just have to build a building. We build a building somewhere outside," suggests a man who appears to be on the phone, with only his side of a conversation audible.
"I want to issue a decision from the Ministry of Interior's office. The decision should state that the 'blah' building, in the 'blah' location, is a private prison and part of the Ministry of Interior," the same man says later on in the apparent phone conversation.
"I want to know what building it is. So that if I had no other option but to relocate him for some time I'll just put something like Ministry of Interior prison or whatever they tell me to put," he says. "I want this building. And I'll put a sign labelled 'Central Security' on it."
Later in the recording, some suggest building a wall or fence around the building in which Morsi is being held.
"So we will build a fence around the place and fix everything," suggests one.
"I mean along the entrance a separating wall so the route would split: the prison would go right and the military unity would go right or vice versa," says another.
"Or something like that sir because there may be a request for inspection," says a third voice.
According to the recordings, Kamel speaks directly to Gundi, asking him to change the description of the building where Morsi was initially held from an army installation to an Interior Ministry prison.
Eventually they agree on a solution, though there is still a marked sense of desperation about a potential investigation leading to the collapse of the cases against Morsi.
"I'm putting a worst case scenario in case there was an inspection," says one official.
"Sir you can't imagine that the case will get ruined. […] His [Morsi's] detention since 3 July until he went to Tora [prison] was illegal and therefore all of this [is] void. Okay, sir, please take a look at it but I hope you find a solution. Find a solution, sir. Please find a solution."
At the time of publication of this story, Sisi's office had not issued a statement regarding the alleged leak.
Supporters of Morsi and the Muslim Brotherhood – now designated a 'terrorist organisation' by Egyptian authorities – have already seized on the leaked recordings as evidence the charges levelled against the controversial figure are baseless.
In the wake of the publication, many took to social media to discuss the leak and its veracity – within three hours of the recordings being shared, posts using the hashtag created about the clips had reached over 100,000 accounts on Twitter.(T/R04/R03)
Mi'raj Islamic News Agency (MINA)