When A Girl Reads Palestinian Poetry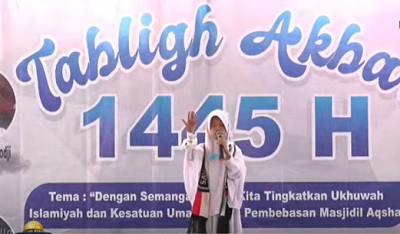 Allahu Akbar, Allahu Akbar, Al-Aqsa Haqquna!
Her voice was loud, her screams were thunderous, her emotions were soaring, her energy burst and penetrated the heart of those who heard her. A girl is showing off, reading a poem about Palestine in a competition.
Meanwhile, in one corner of the room, a young mother focused her eyes on the stage, as if she didn't want to move and look away from that high place. It can be seen that the mother shed tears of pride watching her baby who was performing.
Yarashima Safura, a grade 3 student at MI Al-Fatah Cikampek, was reading a poem by his mother about Palestine. The spectators couldn't stop applauding, both proud and touched by their appearance, the children participating in the competition.
Yarashima was not alone, dozens of students at the Islamic Elementary School (SD) level also showed off, reciting poetry, as if they were prestigious artists. Without being awkward and shy anymore, they presented extraordinary performances to the viewers and the jury.
However, it wasn't just his appearance that moved the audience. Furthermore, they all have a glimmer of hope, that the participants will instill their love for Palestine and Al-Aqsa, and that one day they will become part of the fighters for the liberation of this noble mosque.
Palestine is indeed a world concern. The reason is, until now, the country is the only region that is not yet independent. Zionist Israel straddles its land, evicts its occupants, demolishes people's homes and controls its natural resources.
Here is one of the poems read by the contestants:
Mother's Story About Palestine
Mother said, your earth is a glorious place
A land inhabited by martyrs
Your blessed land, the land of the prophets
On your land there is the Aqsa Mosque standing
Mother said, loving you is a must
Love you without conditions and conditions
Protecting and looking after you is an obligation
That's what God commanded
Like a mother's love for her child
Unceasingly, without pause, on and on for ever
Although the Zionists continue to humiliate and insult him
However, love for Al-Aqsa must not be extinguished, it must continue to burn
Al-Aqsa, the first qibla of Muslims
Standing strong since hundreds of years ago
From Indonesia we send greetings
I always hum, from the deepest heart of the heart
Now your land is confiscated, your house is destroyed
The sound of crying roaring shouted
Now you are stranded in evacuation
Without knowing when will return to hometown
Mom always talks about you
In order to grow love and affection for you
So that the mujahid spirit grows in me
Liberate Al-Aqsa with my struggle
We promised Mother
We will try to free you
With the help of Allah my Lord
Move together united
Allahu Akbar Allahu Akbar Al-Aqsa Haqquna
(T/RE1/P2)
Mi'raj News Agency (MINA)