US VEILED STUDENT NAMED BEST DRESSED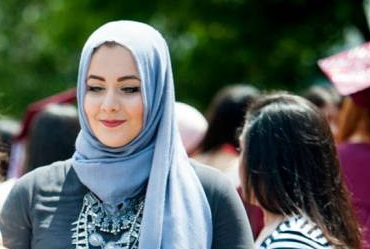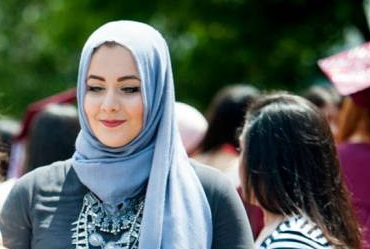 North Jersey, 13 Ramadhan 1436/30 June 2015 (MINA) – Blending traditional and modern trends to create modest style, a New Jersey Muslim has been named best-dressed female senior student, breaking down negative stereotypes of women wearing the Islamic headscarf.
"There are always cheerleaders who win and popular girls, so I was very surprised it was me, being a hijabi," Muslims student Abrar Shahin said, On Islam quoted by Mi'raj Islamic News Agency (MINA) as reporting.
"It was a dream come true."
Winning the best-dressed vote at Clifton High School, Shahin aims to correct the image of Islamic fashion in the US.
The victory of Shahin, who sports a black skirt and jeans, ankle-high boots and a cropped white blazer in her yearbook photo, reflects the growing acceptance of hijab in American high schools.
Becoming the first ever veiled student to win the title, the Palestinian-descent plans to study physical therapy at Rutgers besides having a fashion company on the side.
"It's such an honor to see that they are looking at us as equal and that they're not just looking at hijab," she said.
Having clothing-store job in Paramus, "boho-chic" is Shahin's favorite look, which she describes as "laid-back and flowy, effortless and classy."
"Every day is different. It depends on my mood," said Shahin who liked to pair flowing shirts over skinny jeans with chunky necklaces or bangle bracelets.
Last month, a California Muslim student was praised for making a simple and hilarious high school yearbook quote that sheds light on her Islamic hijab in a creative way.
The 17-year-old Muslim student mixed humor, religion and culture in a quote that was attached to her yearbook picture.
"Only reason I wear this is to give you females a chance," the Summit High School senior wrote.
Tweeted under the nickname Fefe, the unique quote has been retweeted more than 20,000 times.
Sense of Pride
Praising the Muslim student for her unique style, school teachers attributed her victory to her great fashion sense.
"School is early, so a lot of times kids will come in sweat pants or dressed casually," Lindsey Cinque, a French teacher who is yearbook and senior class adviser, said about the early hour students must report for class.
"She was always dressed up, and she definitely took a sense of pride in her fashion."
Although it's not clear how many votes the Muslim girl got or whom the votes came from, the award showed that students can "look beyond labels to honor someone's accomplishment," Cinque said.
"In a class of 800 people, it's definitely a huge honor that they picked her," she said.
Islam sees hijab as an obligatory code of dress, not a religious symbol displaying one's affiliations.
Shahin was not the only Muslim student to get the award, another Muslim student Abraham Zeidan, was named the best dressed male.
For Muslim women working in fashion business, naming a hijabi student best dressed means "times are changing."
"It sends the message that we are able now to set trends and be respected for what we stand for at the same time," Sonya Nasser, owner of Arabella Couture, a women's clothing store in Paterson, said.
Since the 9/11 attacks, US Muslims, estimated between 6-8 million, have complained of discrimination and stereotyping  in their communities due to their Islamic attire or identities.
Additionally, a Pew Research Center study, Public Remains Conflicted Over Islam, has revealed that the majority of Americans know very little about Muslims and their faith.
A Gallup poll also found that the majority of US Muslims are patriotic and loyal to their country and are optimistic about their future.
Another Economist/YouGov poll found that a 73 percent of Americans believe that US Muslims are victims of discrimination amid recent attacks against the community. (T/P006/R03)
Mi'raj Islamic News Agency (MINA)