Turkey Calls for End to Violence in Myanmar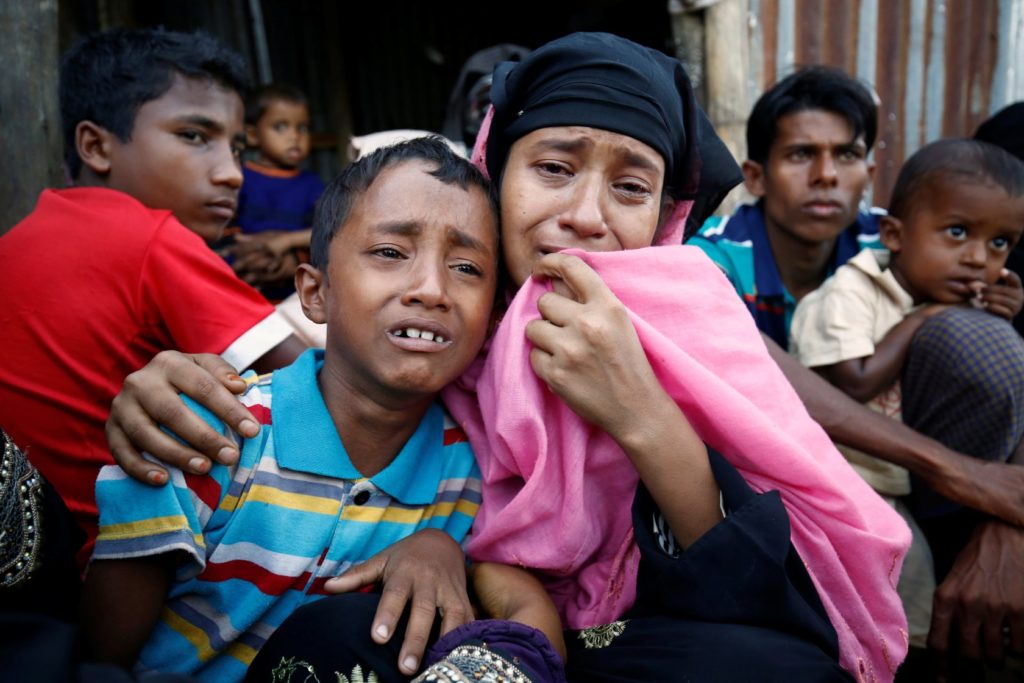 A Rohingya Muslim woman and her son cry after being caught by Border Guard Bangladesh while illegally crossing at a border check point in Cox's Bazaar, Bangladesh
Istanbul, MINA – Turkey's prime minister on Friday called on the international community to help stop violence against Rohingya Muslims in Myanmar's western Rakhine state.
"The international community should be more active and should abandon different [double] standards on this subject," Binali Yildirim told reporters in Istanbul on the first day of the Muslim holiday of Eid Al-Adha.
Eid al-Adha, known as the feast of the sacrifice, recognizes Abraham's submission to God in his willingness to sacrifice his son.
Turkey has been doing its part to send humanitarian aid to the suffering Rohingya and in order to put an end to the violence, he said.
"We once again strongly condemn this massacre," the prime minister said, adding, "Those, who have done this will be held accountable before humanity sooner or later."
Later on Friday, at a ceremony held by the ruling Justice and Development (AK) Party in Istanbul to mark the Eid holiday, Yildirim called the violence in Rakhine a "crime against humanity".
"I say it openly, the proper word for killing defenseless people just because they are Muslims is 'genocide'," Yildirim stressed.
Other government ministers' Eid messages also focused on the ongoing violence.
"The world and the United Nations have enough power to stop the cruelty in Rakhine," Deputy Prime Minister Recep Akdag told Anadolu Agency in the eastern Erzurum province.
Speaking to reporters in the northwestern Kocaeli province, Deputy Prime Minister Fikri Isik said the world is "unfortunately blind and deaf to this persecution".
Violence erupted in Myanmar's Rakhine state on Aug. 25, when the country's security forces launched an operation against the Rohingya Muslim community. It triggered a fresh influx of refugees towards neighboring Bangladesh, though the country sealed off its border to the refugees.
Displacement of Rohingya villagers
Media reports said Myanmar security forces used disproportionate force, displacing thousands of Rohingya villagers and destroying their homes with mortars and machine guns.
The violence in Rakhine state "cast a shadow over" this year's Eid al-Adha, Deputy Prime Minister Hakan Cavusoglu said in the northwestern Bursa province.
"We've seen that the international community has responded to all the calls made by particularly our president and prime minister," he said, adding that he hopes the crisis there will be resolved permanently.
Separately, Foreign Minister Mevlut Cavusoglu said he spoke to his counterparts in many countries and representatives of international organizations over the crisis.
"Today I am also going to speak to Kofi Annan," the former UN secretary-general and current UN special envoy, he told reporters in the Mediterranean province of Antalya. "Turkey will do whatever it needs in order to find a permanent solution in Rakhine."
Speaking to reporters in the southern Adana province, EU Minister Omer Celik expressed his solidarity with Rohingya Muslims.
"Our state and nation will continue to extend a helping hand to people suffering in every region of the world — from Rakhine to Pakistan, from Syria to Somalia, from Serbia to Palestine," Defense Minister Nurettin Canikli said in a written message marking the Eid.
Rakhine has seen simmering tension between its Buddhist and Muslim populations since communal violence broke out in 2012.
A security crackdown launched last October in Maungdaw, where Rohingya make up the majority, led to a UN report on human rights violations by security forces that indicated crimes against humanity.
The UN documented mass gang-rape, killings — including infants and young children — brutal beatings, and disappearances. Rohingya representatives have said approximately 400 people have been slain during the crackdown.  (T/RS5/RS1)
Mi'raj Islamic News Agency (MINA)