SAUDI EXPATRIATES CHOOSE ISLAM IN RAMADAN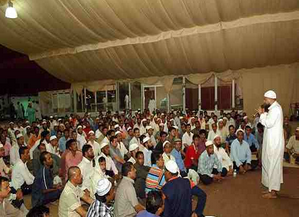 Riyadh, 28 Ramadan 1435/26 July 2014 (MINA) – Choosing blessed Ramadan nights, scores of expatriates have reverted to Islam in Saudi Arabia over the holy month, reciting the shahada, Islamic declaration of faith, at their local mosques to join the world's fastest growing faith.
"I don't want to burn in Hell in the Hereafter. My heart was always searching for the truth and never at peace until I found Islam," Manny Estanislao who reverted to Islam and changed his name to Younes. Onislam quoted by Mi'raj Islamic News Agency (MINA) as reporting.
"I love the true nature of Islam and its message of peace and giving to others. I am glad that I accepted the true religion on one of the best nights in the blessed month of Ramadan," he said, on Friday (25/7).
Estanislao is one of eleven Filipino expatriates who reverted to Islam after Taraweeh prayers at Jamiya Al-Salheen Mosque in Quwahiza under the guidance of Sheikh Hamdan bin Nasser Al-Juhani, in front of hundreds of witnesses.
At the mosque, a number of Filipinos who reverted to Islam years ago were present at the ceremony.
Esa Deleon, a Muslim from the Philippines who converted many years ago, said that many more people would convert if they have a true understanding of the religion.
Along with misconceptions about Islam, Deleon said the bad behavior of some Muslims drives people away from Islam.
Another witness at the mosque, Hafizur Rahman, said that Muslims should present their religion in a simple manner and not resort to harsh behavior.
He said history has shown that people accepted Islam all over the world by simply meeting Muslims and observing their way of life.
Away from Jeddah, a total of 115 people reverted to Islam at iftar and guidance camps in Dammam during the first two weeks of Ramadan.
The events are organized by the Cooperative Office for Call and Guidance, Ghiras.
"On average, eight people convert per day," said Walid Al-Thani, the office's director.
Ghiras has disseminated around 26,000 publications, in addition to organizing 496 seminars and lectures.
"More than 500 people were able to perform Umrah through our office over the past two weeks," he said.
"We have six camps that have distributed over 96,000 meals to more than 6,000 people for iftar throughout Ramadan," he added.(T/Nidiya/P04)
Mi'raj Islamic News Agency (MINA)