Rouhani Awards Medals to Nuclear Negotiators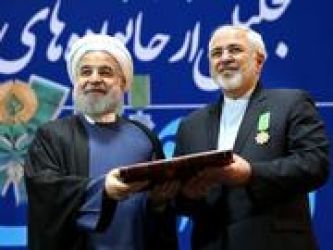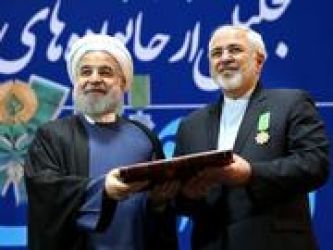 Teheran, 1 Jumadal Awwal 1437/February 9, 2016 (MINA) – During an acclaimed ceremony on Monday (February, 8) President Hassan Rouhani awarded medals of merit to Iranian nuclear negotiators who brokered a historic nuclear deal with major powers, Tehran Times reported.
The first-degree medals were awarded to Mohammad Javad Zarif, the foreign minister and chief nuclear negotiator; Ali Akbar Salehi, the director of the Atomic Energy Organization of Iran who managed technical debates with the great powers; and Hossein Dehqan, the defense minister, whose ministry has been watching the security of nuclear sites.
The second-degree medals went to Abbas Araqchi, the deputy foreign minister for legal and international affairs who served as a senior negotiator; Majid Takht-Ravanchi, the deputy foreign minister for European and American affairs; and Hamid Baeedinejad, foreign ministry director for political and security affairs.
During the ceremony President Rouhani also handed awards of bravery to the families of the martyred nuclear scientists.
The president said the martyred nuclear scientists chose this "dangerous path" valiantly and intelligently and did not back down even an iota from their path. He added if even tens of Iranian nuclear experts were martyred "our nuclear scientists still would not give up the path of dignity."
Rouhani said that there would have been no achievement in nuclear talks if it had not been for national unity and the guidelines set by the Supreme Leader.
The Iranian nuclear negotiating team made any efforts to follow the Leader's guidelines, the president remarked.
Rouhani said his administration appointed the most competent diplomats to the nuclear negotiations.
Rouhani also reminded that "collapse of the structure of sanctions and wall of distrust" was an honor that belongs to the Iranian people.
The president also thanked the Judiciary chief, parliament speaker, and the Supreme National Security Council, for helping his government to bring the nuclear talks to fruition.
Rouhani also praised efforts made by all the previous administrations in the area of the nuclear industry.
"I thank Dr. Larijani (parliament speaker) who helped us in difficult days, also the Supreme National Security Council, the Atomic Energy Organization, the Foreign Ministry and also former presidents Ayatollah Hashemi Rafsanjani, Hojjatoleslam Seyyed Mohammad Khatami, and Mr. Ahmadinejad," Rouhani noted.
Having received the medal, Zarif said that the greatest medal of merit belongs to the Iranian people. (T/P4/R04)
Mi'raj Islamic News Agency (MINA)