Erdogan Urges Unity at World Muslim Minorities Summit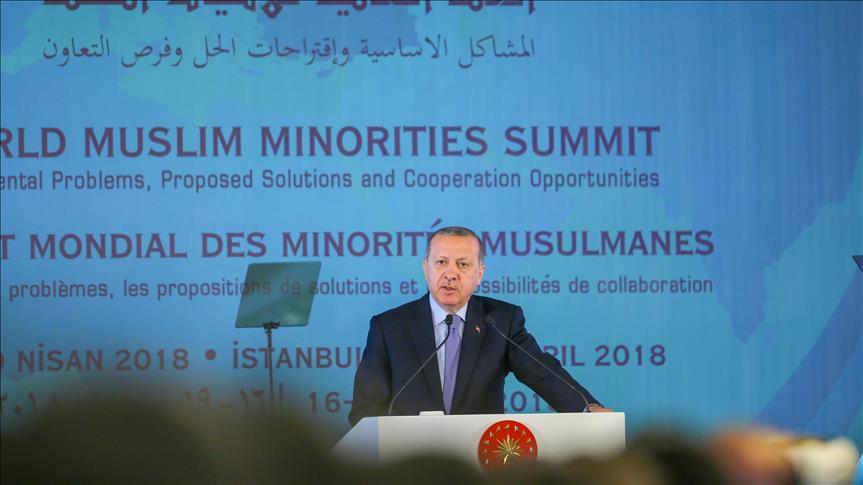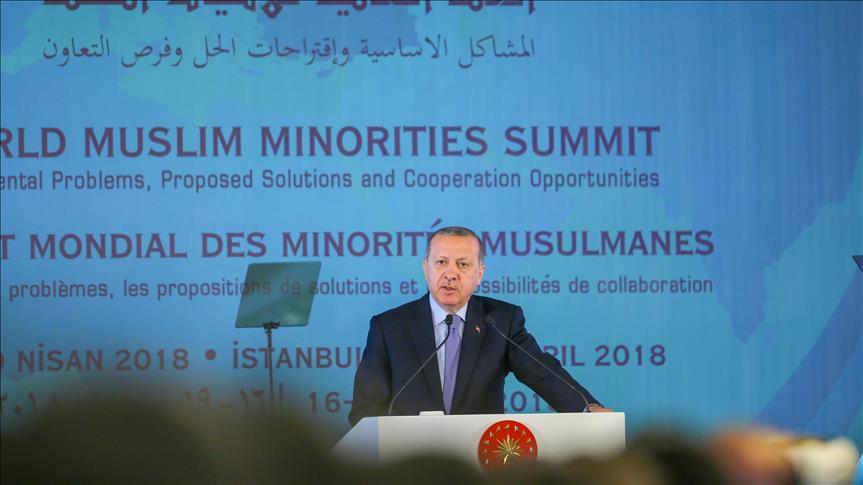 Istanbul, MINA – President of Turkey, Recep Tayyip Erdogan called for Muslim unity and brotherhood during the World Muslim Minorities Summit that began in Istanbul on Monday.
Speaking at the first-ever Muslim minorities summit in Turkey, Erdogan said: "Differences should not be an obstacle to love and brotherhood."
He said just like the direction of the Qibla — the direction that a Muslim takes when praying — is same, the hearts of all Muslims are also same despite them being in different locations around the world, Anadolu Agency reported.
Erdogan said attacks on Muslims minorities had become commonplace in many countries.
"Today, attacks on Muslims and refugees have become commonplace in many states that practice democracy and law," he said.
He added that Muslim homes and workplaces as well as places of worship have been targeted by racist and fascist groups almost on a daily basis.
The Turkish leader mentioned the fact that several anti-Muslim attacks have been reported in Germany, the Netherlands, Belgium and France.
"Muslim women are being harassed on streets, at workplace just because they wear headscarves.
"The western world wants to defend its own ideology and way of life through anti-Islamism.
"Islam, which is the only religion that can respond to the depression of modern people, is being given labels through pre-planned terrorists," Erdogan said.
Do not allow 'hypocrisies'
He added that terror groups like Daesh, Boko Haram, Al Shabab and Fetullah Terrorists Organization (FETO) were harming Muslims as well as giving an opportunity to anti-Muslim circles.
The countries that press Muslim states on minority rights do not see ethnic cleansing of Muslim minorities in many African and Asian countries, according to Erdogan.
"We should not allow these hypocrisies to keep us from our path and our righteous struggle," he said.
"Muslims have no problem in living together in peace with other religions and never have [had any such problems] throughout history," he added.
He urged Muslims to continue their struggle against "double standards".
Also, speaking at the event, Prime Minister Binali Yildirim said a small part of the world population had access to all opportunities while most people suffers from a chronic lack of basic necessities, including food and shelter.
He said those in the small group were responsible for making the world a better place for those who face discrimination and marginalization due to their race, belief and cultural values.
About the xenophobia in Europe, Yildirim said 128 such attacks took place in 2016, while 33 attacks were carried out in the first three months of this year.
He said Turkey was contributing in the fight against racism, discrimination and intolerance both in the region and globally.
"Turkey supports draft resolutions submitted each year to the UN Human Rights Council by the EU and the Organization of Islamic Cooperation, on freedom of religion and belief, and fight against religion based intolerance," Yildirim said.(R/R04/P2)
Mi'raj News Agency (MINA)