27,952 Indonesian Hajj Pilgrims Departed for the Holy Land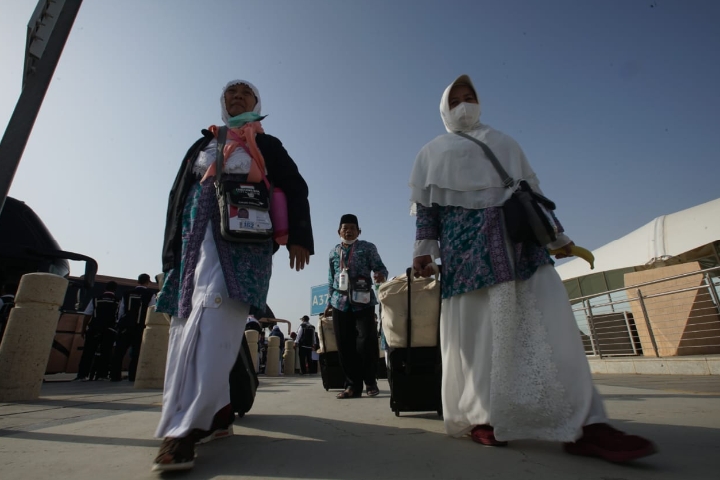 Medina, MINA – Head of Public Relations, Data, and Information Bureau, Ministry of Religion, Akhmad Fauzin announced that on the sixth day of the Hajj operation, 27,952 first batch of Indonesian hajj pilgrims departed for the holy land, Saudi Arabia.
"Based on data from the Integrated Hajj Information and Computerization System (Siskohat) until today on Sunday, at 11.10 WIB, the pilgrims who have flown to the Holy Land totaled 27,952 people or 73 flight groups (kloters) and those who have arrived in the City of Medina numbered 24,157 people or 63 groups. The data is specific to the congregation, apart from flight attendants," said Akhmad Fauzin in a press release received by MINA.
The first wave of Indonesian haj pilgrims gradually enters the haj hostel every day, starting on Wednesday to the Holy Land from a number of embarkations in Indonesia and landing at Amir Muhammad bin Abdul Aziz Airport (AMAA) Medina.
As for the congregation who died, there was an increase of one person on behalf of Achmad Suhadak Riduwan who joined the Surabaya Embarkation Group 3 (SUB) 9. So that to date, the total number of pilgrims who have died is two people.
Pilgrims who died were offered prayers at the Prophet's Mosque and were buried in Baqi. In accordance with the provisions, pilgrims who died will be brought to the pilgrimage.
"51 people are sick. As many as 38 people were treated at the Indonesian Hajj Health Clinic (KKHI) Medina, 13 people were treated at the Saudi Arabian Hospital (RSAS) Medina," he said.
The government reminds the congregation, especially the elderly to maintain their health and avoid outdoor activities. The weather in Medina is quite hot with temperatures reaching 39-40 degrees Celsius.
For elderly congregation, do not force yourself to carry out sunnah worship if their physical condition does not allow congregational prayers at the Prophet's Mosque. Pilgrims can also perform prayers at the hotel, to avoid fatigue.
Following are the details of pilgrims entering the Hajj hostel today from each embarkation:
1. Embarkation of Aceh (BTJ) as many as 388 pilgrims/1 group.
2. Medan Embarkation (KNO) of 355 pilgrims/1 group.
3. Batam Embarkation (BTH) as many as 738 pilgrims / 2 groups.
4. Palembang embarkation (PLM) of 355/1 flight group.
5. Embarkation of Jakarta (JKG) as many as 776 pilgrims/2 groups.
6. Embarkation of Bekasi West Java (JKS) as many as 804 pilgrims/2 groups.
7. Solo Embarkation (SOC) of 355 pilgrims/1 group.
8. Embarkation of Surabaya (SUB) as many as 1,335 pilgrims/3 groups.
9. Embarkation of Banjarmasin (BDJ) as many as 325 pilgrims/1 group.
10. Embarkation Kertajati (KJT) of 369 pilgrims/1 group.
11. Makassar Embarkation (UPG) as many as 388 pilgrims/1 group. (T/RE1)
Mi'raj News Agency (MINA)