Thousands March in South Africa over Gaza Killings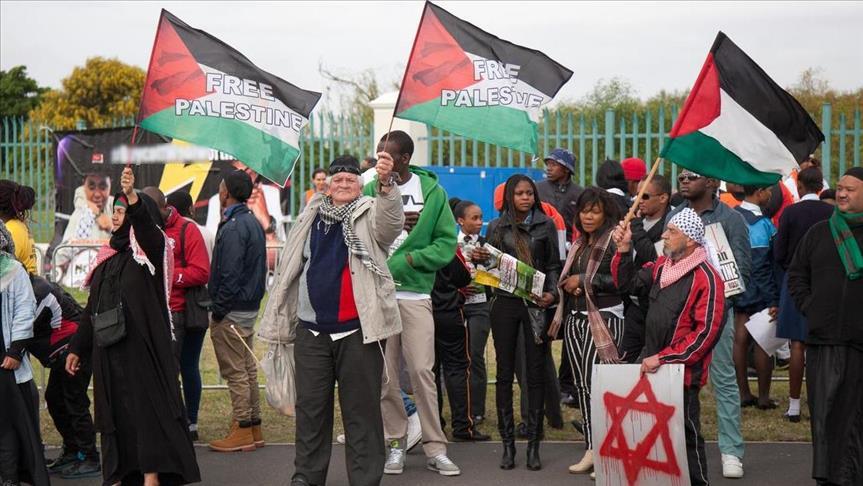 Johanesburg, MINA — Thousands of South Africans on Tuesday marched to condemn the killings of Palestinians by Israeli security forces at Gaza border.
"We are coming here to condemn and express our anger at the Israel apartheid regime," Anadolu Agency quoted Mohammad Desai of Boycott Divestment & Sanctions group (BDS) as telling a large crowd in Cape Town.
According to the Palestinian Health Ministry, at least 60 Palestinian demonstrators have been martyred and thousands more injured by cross-border Israeli gunfire in one of the deadliest single day massacres in the country's history.
Desai said Palestinians stood with South Africans during the struggle against apartheid and gave them resources to fight the white minority rule. He said South Africans has all the rights to reciprocate the support.
"The UN has failed us all; resolution after resolution, Israel ignores them. It's time now for an International solidarity movement to stand up against the atrocious Israeli regime," deputy secretary general of the ruling African National Congress (ANC), Jessie Duarte, told local TV eNCA.
Another march was held outside the U.S. consulate in Johannesburg to condemn the relocation of the U.S. embassy to Jerusalem.
The embassy relocation coincides with the 70th anniversary of Israel's establishment in 1948 — an event Palestinians refer to as the "Nakba" or the "The Catastrophe".
Duarte said Israel is "currently perpetuating inhumane action against Palestinian people and it must stop."
Photos published on social media showed protesters carrying a coffin draped in Palestinian flag to show their condemnation of the killing of Palestinians.
In a statement on Monday, the South African government condemned the killing of protesters in the Gaza Strip.
On Monday, the South African government ordered the immediate recall of its ambassador to Israel, Sisa Ngobane, following the fatal violence perpetrated by Israel troops in Palestine.
Israel has not yet responded in kind.
Thousands of Palestinians staged mass rallies on the Gaza Strip's eastern border on Monday to commemorate the Nakba anniversary and protest the relocation of the U.S. embassy from Tel Aviv to Jerusalem.(T/RS5/RS1)
Mi'raj Islamic News Agency (MINA)