Test Event of Asian Games Pencak Silat Competiition Kicks Off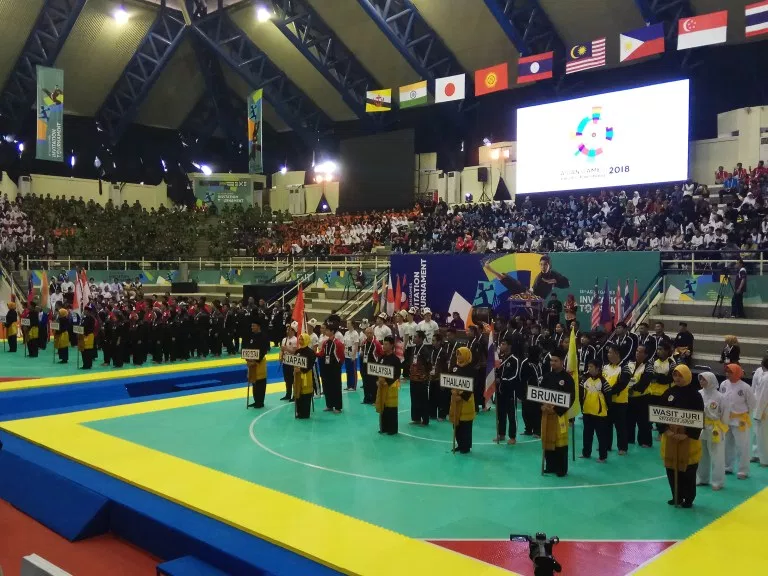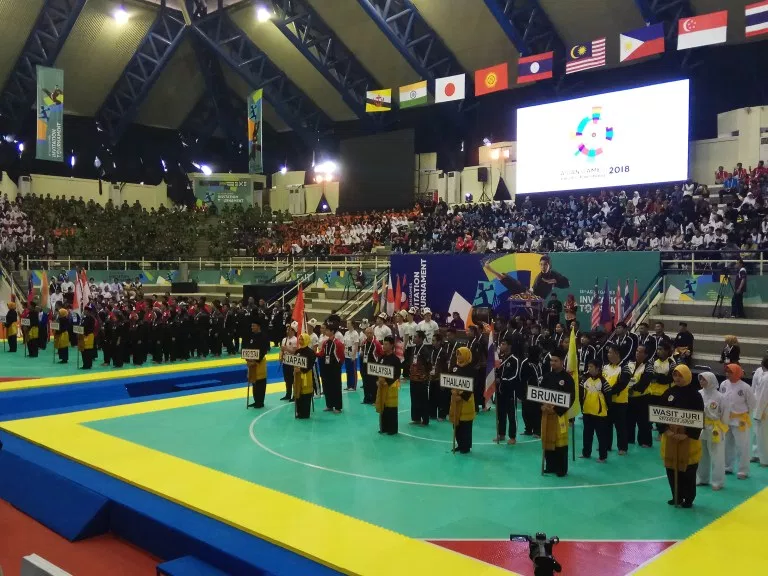 Jakarta, MINA – The test event of the Asian Games 2018 for pencak silat (Indonesian traditional martial art) has been officially opened at Padepokan Pencak Silat (The Pencak Silat Training Center) Taman Mini Indonesia Indah (TMII), Jakarta, Saturday (10/2), with thousands of people from various silat camps and some schools in Jakarta are present to watch.
Beginning with singing the national anthem Indonesia Raya, the opening ceremony was followed by a speech by the Chairman of the Organizing Committee of the test event, MINA News Agency (Mi'raj News Agency) reported from the location.
The audience spilled over into the stands, causing some spectators occupy the stands for the media. The organizing committee should persuade them to occupy the location provided according to the rules.
Member of the organizing committee of the Association of Pencak Silat Indonesia (IPSI), Sunarno admitted, the number of spectators who were present on the first day of the test event for Pencak Silat was unexpected. Of the total 1,500 invitations distributed, there are actually around 3,000 spectators attending.
"We are actually inviting for 1,500 spectators, but the sum comes to 3,000. Maybe because they are curious to watch our silat athletes at international level, "said Sunarno.
He ensured, the number of spectators who attended will not reduce the services of the committee. adding that in anticipation of a larger amount, it will immediately reset the seating provided.
Meanwhile, Indonesia Pencak Silat Team Edhy Prabowo admitted very happy with the presence of the audience. According to him, their support can boost the level of confidence of athletes from Indonesia.
"We are targeting to become the overall champion," said Edhy to the media crew after attending the opening ceremony.
In addition to Indonesia, other countries that compete in the Asian Games event include the Brunei Darussalam, Thailand, Malaysia, Japan, Kyrgyzstan, Singapore, India, Laos and the Philippines.
The 2018 Asian Games event test of the martial arts competition will match as many as 16 categories, class ,, ie for men's B class (50-55 kg), C (55-60 kg) D (60-65), E (65-70 ), F (70-75 kg), I (85-90 kg), and class J (90-95 kg).
While for women's categories are class B (50-55 kg), C (55-60 kg) and class D (60-65 kg). For art classes or singles, doubles, teams, men and women singles, men and women doubles and men and women teams. (L/R06/P2/RS%)
Mi'raj News Agency (MINA)