Santri Writer Summit Kicks off in Depok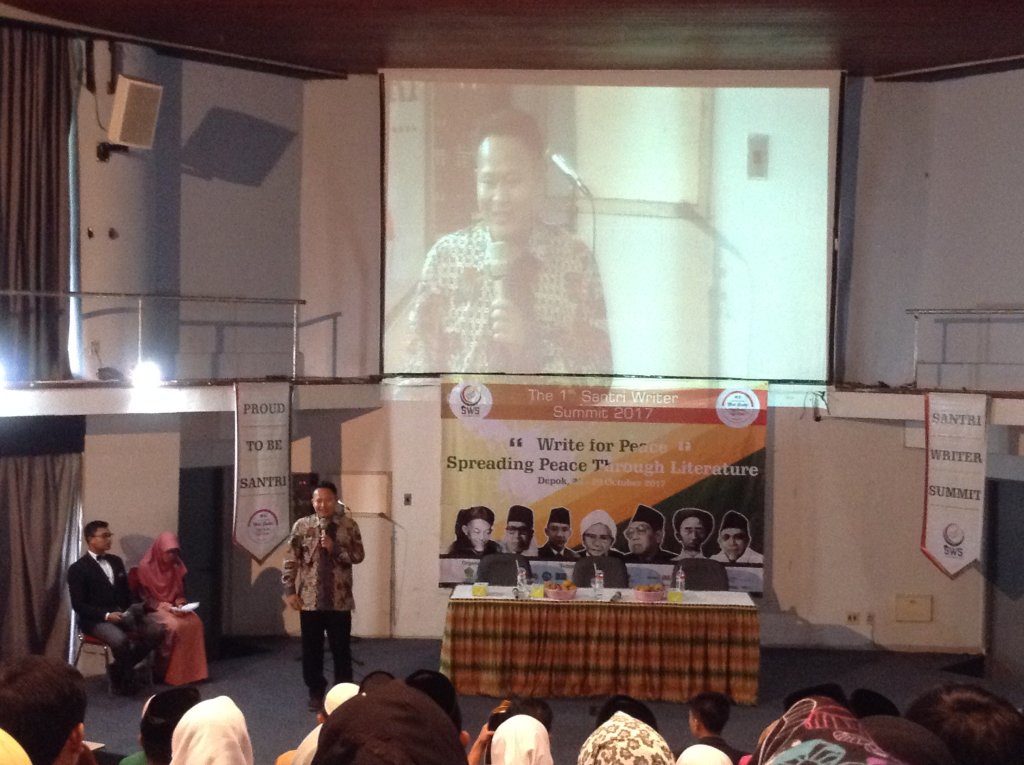 Jakarta, MINA – The Movement of Wrting Santri and the Ministry of Religious Affairs has organized the two-day Santri Writer Summit 2017 under the theme "Writer for Peace: Spreading Peace Through Literature" at the Japanese Studies Center Building of the University of Indonesia, Depok.
In the opening ceremony on Saturday, Achmad Zayadi, the ministry's Director of Islamic School Education and Islamic Boarding School, said this event is the first literary santri conference in Indonesia aimed at encouraging young people, especially santri, to engage in the dissemination of peace messages through literature media.
 "The activity will provide views to santris or students of traditional Muslim school, that they also become agents of change, one of them through the media of writing," said Ahmad Zayadi.
Meanwhile, the Founder of the movement Saiful Falah said the idea of ​​making portal writingsantri also started from his hobby of writing and inspired by the enthusiasm of the santri on journalism.
"With this portal, writing santri not only published in bulletin or pesantren magazine only, but their writing can go public," he added.
Also attending the event were some writers and national speakers in
literacy, including best-selling novelist Ayat-ayat Cinta or the Verses of Love, Habiburrahman El-Shirazy, Asma Nadia, and other young writers.
Chairman of the Committee, Sulistia Nisa Utami said the event was attended by 250 participants from various writing communities as well as 50 delegations of Pesantrens throughout Indonesia whose essays have been selected from 357 senders where elected essays will be booked by Santrinulis Publisher as an appreciation for the delegates.
"As for the second day event, the 50 delegates will be divided by sub-themes into 5 groups to discuss the essay of each delegation and each group sends one representative to present the discussion result, and the best essay and performance participants will get a holiday ticket to Singapore as an appreciation given by Santrinulis as the organizer, "said Sulis.
The Santrinulis community with santrinulis.com media, a web-based/portal media for the young Muslim writers community, honed writing skills with various writings, in the form of opinions, tips, travel notes, fiction stories, and others.
Since 2012, Santrinulis.com's number of members has continued to grow to approximately 2000 people who are not age-restricted, profession or educational background.
Santrinulis has a mission to become a potential and reliable public media in developing and publishing their papers by continually striving to encourage youth/young women to dare to perform in the midst of the community of new young writers.
The media also provide information, and positive contributions through papers, news, stories, research, in all media either in media sosisal, whether it is magazines, journals, books, etc., by upholding knowledge, morals and peace . (T/R04/RS5)
Mi'raj Islamic News Agency (MINA)
Tags:
.(L/R04/RS5)
http://www.mirajnews.com/2017/10/santri-writer-summit-resmi-dibuka.html
Mi'raj News Agency (MINA)