PALESTINIAN UNITY GOVERNMENT MINISTERS ON GAZA VISIT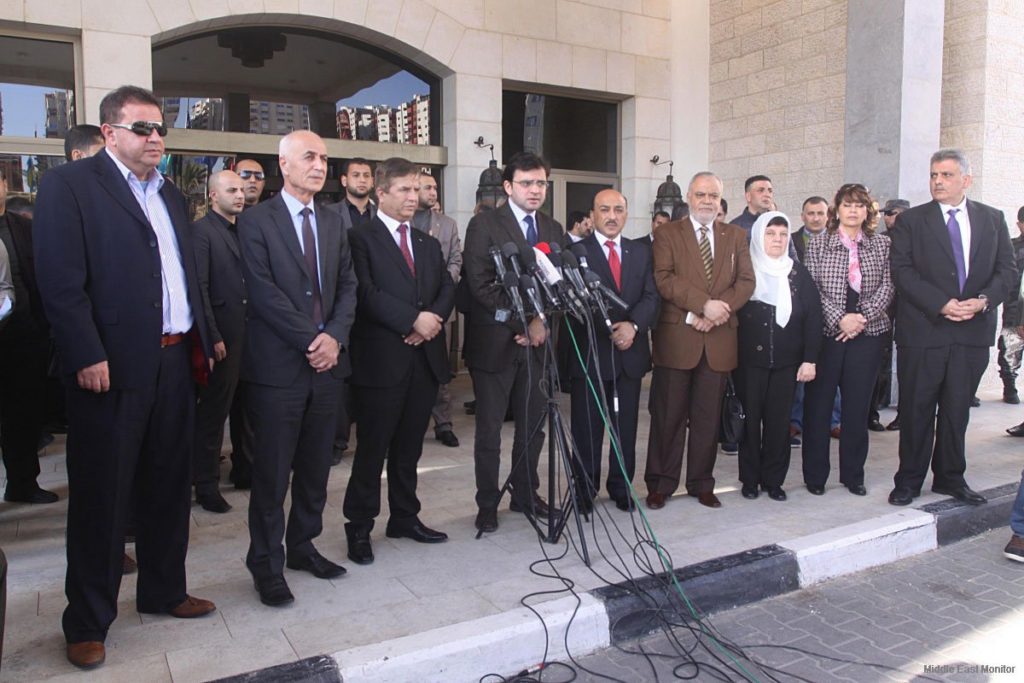 Gaza City, 8 Rabi'ul Awwal 1436/30 Desember 2014 (MINA) – A delegation from the Palestinian unity government arrived in the Gaza Strip on Monday from the West Bank for a week-long visit.
The delegation includes eight ministers and 35 officials from the Ramallah-based unity government. Middle East Monitor (MEMO) quoted by Mi'raj Islamic News Agency (MINA) as reporting, Tuesday.
"Every minister in the delegation will follow up the work of his ministry and will address outstanding issues," Public Works Minister Mofeed al-Hasayneh told Anadolu Agency.
He said that Prime Minister Rami Hamdallah may join the delegation in Gaza in the coming days.
Hamdallah had earlier announced that he will not be able to travel to the Gaza Strip with the delegation, citing "unforeseen circumstances."
This is the second visit by the unity government to the Gaza Strip since October, when Hamdallah and his government visited the blockaded territory for the first time.
In April, rival Palestinian factions Fatah and Hamas signed a reconciliation deal that led to the formation of a unity government two months later. The government, however, has yet to assume responsibility for the Hamas-run Gaza Strip.
Real cooperation
Meanwhile Ma'an News Agency reported that government spokesman Ihab Bseiso told Ma'an that the visit aims to foster "real cooperation between all political parties that signed the Cairo and the al-Shati agreements to ease the Palestinian Authority's work in Gaza," adding that they intended for the visit to be a support for Gazans after Israel's bloody summer offensive.
"We are here to help all Palestinian parties lighten the suffering of Gazans," he said.
The visit comes amid mounting criticism in Gaza of the unity government's failure to assert its authority in Gaza and coordinate the entry of reconstruction material.
Israel has refused to significantly ease the eight-year-old siege as promised to allow building material to enter Gaza, but many believe that pressure from the PA could help push this process forward.
The Palestinian Minister of Labor Mamoun Abu Shahla told Ma'an that the highest priority issues on the agenda are reconstruction, helping residents find employment, the issues facing Gaza workers, opening the crossing, and finding a solution to ensure that reconstruction material can enter the Strip.
Abu Shahla added that there are several major problems including power, water, sewage, and providing shelters to those displaced that need to be tackled by government authorities.
Despite the visit, dozens of those whose homes were damaged during the Israeli offensive on Gaza held a protest at the Erez crossing into Israel, which was the site of large rallies Sunday as well in protest against perceived inaction.
Monday's protesters took up similar issues, protesting the "PA's neglect of the cause" of the 110,000 Gazans left homeless by Israel's massive summer assault that also left around 2,200 dead. (T/P010/P002/P3)
Mi'raj Islamic News Agency (MINA)