PALESTINIAN PRESIDENT CALLS FOR INTERNATIONAL PEACE CONFERENCE TO IMPLEMENT ARAB INITIATIVE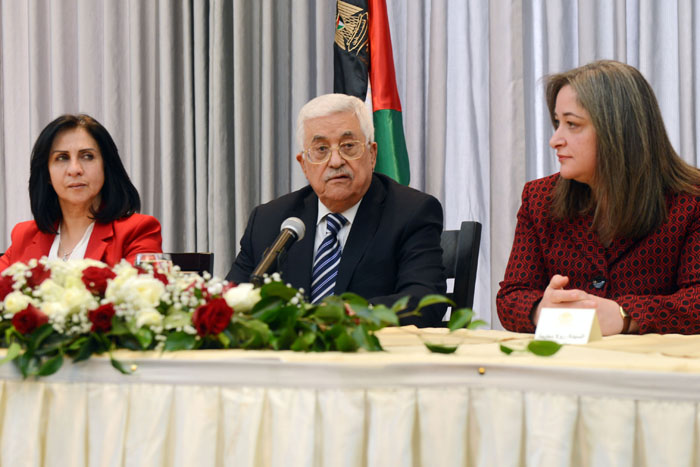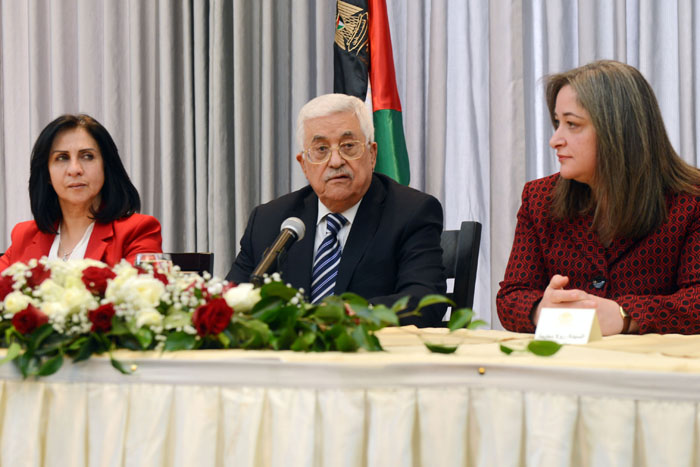 Bethlehem, 29 Rabiul Awal 1437/9 January 2016 (MINA) – Palestinian President Mahmoud Abbas called on Wednesday for convening an international peace conference for the implementation of the Arab peace initiative and forming a group to solve outstanding Palestinian crisis, WAFA reported.
Abbas said in a speech at the presidential palace in Bethlehem that it was unacceptable that the Palestinian question remains unresolved,
We witnessed many crises be resolved such as in Iran, Libya and Syria, despite the fact that our cause is the oldest of all.
The situation is complex and thorny and it might prove difficult to arrive at any solution today or tomorrow, but we have to remain committed to our achievements, because (Palestine)is our country and we shall protect it.
We continue to extend our hand to peace and negotiations to achieve peace and the Two-State solution. We will stay in our land and will not allow Israel to establish an apartheid country or one with two regimes", International Islamic News Agency (IINA) quoted by Mi'raj Islamic News Agency (MINA) as reporting.
"We want a fully sovereign state, and we have rights like the other countries of the world. Anything other than that will not be accepted", Abbas said.
Regarding the Palestinian Authority's (PA) diplomatic efforts, Abbas said,"We shall continue to exert efforts at the United Nations Security Council and the UN General Assembly to provide international protection to our people and to stop settlement activities".
He stressed that settlements are illegal since 1967 to the present day. "This is our land, and all settlers must leave, and they will leave similar to what happened in the Gaza Strip".
Abbas refuted rumors regarding the collapse of the Palestinian National Authority, saying that it is "one of the Palestinians' achievements that will not be abandoned, no one should even dream about that".
He stressed that the PA is still present, and it will be followed with nothing but a state, Abbas stressed that no different scenarios should be accepted.
Abbas further said that the PA will not allow the situation to remain as it is. He explained, "While Palestinians are committed to everything, the Israelis refuse to commit to anything", he said. "We want two states, and ours will be based on the 1967 borders with East Jerusalem as its capital.
We continue to extend our hand to Israel. Despite all the tragedies, we have no choice but peace and negotiations. We ask all Israelis to listen to and understand us because we are here to stay in our homes and in our country".
Regarding the national unity, Abbas said a meeting with Palestinians ministers was conducted on Tuesday to discuss the reconciliation.
"For eight years now, we have been saying that we want a solution to the situation in Gaza because we are one entity. We went to Mecca and swore, but three months later, a coup took place, Then we went to Doha, then to Cairo and later to Gaza and yesterday they said they do not want to hold elections".
Abbas said,"We agreed to the Crossings' initiative, but Hamas hasn't responded yet. They say they are still considering the initiative, and we do not know when they would respond".
Abbas pointed out that the Palestinian land has a unique status, whether it is owned by individuals or churches. He explained, "Many of the land are designated to housing whether in Jerusalem, Bethlehem or Beit Jala.
The land shall be allocated to young couples, and this is how we shall continue to function", He added that this land is sacred, and the PA will not tolerate the transfer of its ownership to any party.
We are coordinating with our brothers in Jordan, and we hope that the joint committee will arrive at a solution to all outstanding issues.
Concerning the central council's decisions, he said,"The central and executive committees are working to fulfill the tasks assigned to them. There will be a meeting for the two committees and more meetings for the governors and security officials next week and we will adhere to their recommendations". (T/Imt/R04)
Mi'raj Islamic News Agency (MINA)