NIGERIAN MUSLIMS URGE PEACEFUL ELECTIONS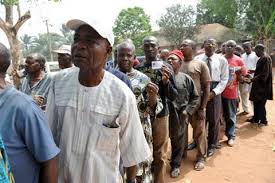 Cairo, 12 Rabi'ul Akhir 1436/2 February 2015 (MINA) – As Nigeria braces for presidential and general elections later this month, Muslim leaders in the western African country have called for unity and peace during the election race, amid escalating threats from Boko-Haram militants.
"The police should ensure there is peace and the only way they can do this is by dealing with those found destroying properties according to the law irrespective of who they are," Nasrul-Lahi-L-Fatih society (NASFAT) Islamic centre president, Engr. Kamil Yomi Bolarinwa, was quoted by Nigeria's the Daily Times, Mi'raj Islamic News Agency (MINA) reported.
Bolarinwa was addressing Muslim leaders at a meeting held over the weekend at the NASFAT Islamic center in Ogun State, OnIslam.net quoted by Mi'raj Islamic News Agency (MINA) as reporting.
The meeting was attended by several Muslim candidates of the opposition All Progressives Congress (APC) and the ruling Peoples Democratic Party (PDP).
During the meeting, a special prayer was held for peaceful general elections, with calls to renounce violence.
On her part, APC Deputy Governorship candidate and Lagos State SSG Oluranti Adegbule urged mothers to protect their children from being lured by extremists.
"I want to implore all mothers to be mindful of where their youths and children go to and ensure that they don't become thugs for political violence. As a mother, I do not pray that my children be used for political selfishness," Adegbule said.
"I enjoin youths to be mindful of what they do; they are young today, and tomorrow will tell their today.
"I want them to believe in themselves, knowing that whatever anyone can achieve they too will achieve and so, they should not put their lives in jeopardy."
The Nigerian general election of 2015 will be the 5th quadrennial election to be held since the end of military rule in 1999.
It will be held on Saturday, 14 February 2015. Voters will elect the President and Members to the House of Representatives and the Senate.
Unity
Similar calls for unity and peace were echoed by Chief Imam of Government House in Ado-Ekiti, Alhaji AbduFattah Olohunkemi, during last Friday prayer.
The imam has urged Muslims to foster peaceful coexistence between Nigerian faiths and shun violence.
"Our strength lies in the unity of this country and no one would profit from the Balkanization of Nigeria," the imam said.
"Those who are drumming the songs of wars should have a rethink."
Urging Muslim to participate in the elections, Olohunkemi said that voters should obtain their Permanent Voters Cards (PVCs).
The meeting comes amid mounting tension in the northern regions that threats this month's elections.
Last month, Boko Haram militants killed dozens about 2,000 people and burned down homes in the northeast Nigerian town of Baga, according to Amnesty International.
Boko Haram, a Hausa term meaning "Western education is sinful", is loosely modeled on Afghanistan's Taliban.
The militant group says it is fighting enemies who have wronged its members through violence, arrests or economic neglect and corruption.
For the last five years, Nigeria has battled a fierce Boko Haram insurgency that has ravaged the country's volatile northeastern region and claimed thousands of lives.
But 2014 has been the bloodiest year of the insurgency yet, with increasingly frequent attacks, higher death tolls and a deluge of displaced persons. (T/P011/R03)
Mi'raj Islamic News Agency (MINA)