MUSLIM STUDENTS IN CALIFORNIA FACE DISCRIMINATION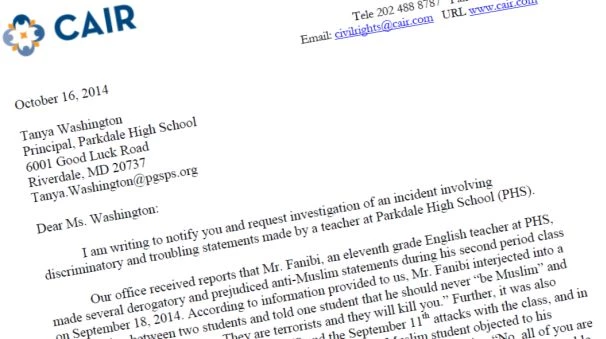 California,  19 Muharram 1437/1 November 2015 (MINA) – Muslim students in public schools or non-Muslim private schools across California have been bullied at a rate more than twice the national average, according to the Council on American Islamic Relations (CAIR) civil rights organisation.
The interviewees were asked a series of questions about how comfortable they were openly identifying as a Muslim, as well as their treatment by school authorities and fellow students. At least 55 percent of the 621 Muslim students interviewed had endured at least one form of religion-based bullying in 2014, according to CAIR's new report, titled "Mislabeled: The impact of school bullying and discrimination on California Muslim students", Al Jazeera reported.
The results found a rise in anti-Muslim discrimination from a similar CAIR report published in 2012.
At least 52 percent of Muslim students had been verbally harassed about their religion at school, while 19 percent had endured online bullying by classmates.
Among girls who wear the hijab, or Islamic headscarf, 29 percent told CAIR that they had been exposed to "offensive touching" or had their hijab pulled by a classmate, and 27 percent said that they had been discriminated against by teachers.
"Girls who wear the hijab are often stereotyped on a regular basis as uneducated or oppressed for wearing it and must constantly affirm to others that it is their choice to wear it," the report reads.
Of those students who reported bullying or discrimination to their teachers or administrators, 46 percent "were unhappy or unsure" with the way their school responded.
In addition to open harassment or bullying, the group says that anti-Muslim discrimination also takes subtler forms.
"Islamophobia can also seep into the school environment through outdated or inaccurate textbooks that paint Muslims and Islam as antiquated and incompatible with Western values."
CAIR called for "a dedicated effort must be made to report and expunge Islamophobia and Islamophobic rhetoric from schools".
Widespread discrimination
The new report comes at a time when many Muslim groups cite widespread religion-based discrimination across the US.
In New Jersey, the Woodbridge Township School District declined to take action against a student who posted on social media a picture of a female classmate wearing a hijab aside a discriminatory comment, according to local media.
"Isis", the student wrote, insinuating that the girl is a member of the Islamic State of Iraq and the Levant, an armed group operating in Syria, Iraq and elsewhere.
Sarah Ali, the student who was photographed, took her story to social media, where it has gone viral. One Twitter post about the district's failure to protect her from discrimination has shared more than 46,000 times.
"This and other cases of bullies targeting Muslim students points to the need for a statewide review of policies and procedures relating to bullying," said James Sues, executive director of CAIR's New Jersey chapter.
"Students of all faiths and backgrounds must be able to achieve their full potential in a positive learning environment free of harassment and intimidation."
In August, 14-year-old Ahmed Mohamed was arrested for bringing to school a home-made clock, which he teacher mistook for a bomb.
The ninth-grader made global headlines after his arrest, which many believe was influenced by bias against his Muslim religion.
Anti-Muslim discrimination is not limited to the classroom, either.
In May, the FBI published a press release warning that right-wing militias "are expanding their target sets to include Muslims and Islamic religious institutions in the United States". (T/R04/R03)
Mi'raj Islamic News Agency (MINA)