MARTY: IT IS TIME FOR STOPPING ISRAELI BARBARITY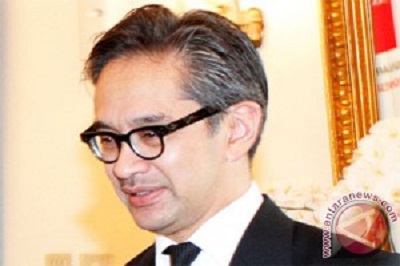 Jakarta, 16 Ramadan 1435/14 July 2014 (MINA) – Indonesian Foreign Minister, Marty Natalegawa, said Israel's aggression in Gaza does not only violate fate of Palestinians, but also violate legal order of international humanitarian. It should be stopped immediately.
"It is time for pressing Israel to stop their barbaric acts", said Foreign Minister to reporters after the Plenary Session of the House of Representatives in Senayan, Jakarta (11/07).
Marty also affirmed Indonesia's attitude condemning Israeli military actions against Palestinians in Gaza Strip.
"We have communicated with our representative in UN, New York to cooperate with Palestinian representatives, representatives of OIC and NAM encouraging the United Nations in our efforts to stop Israeli occupation military action in Gaza," Foreign Minister said in official website of Foreign Ministry.
Marty said that it was time for international community to call for Israel to stop their aggression.
He revealed that Indonesia had sent a letter to chairman of NAM and OIC in New York to hold special meeting identifying steps that could be done by all authorities.
The Foreign Minister also warned that the cycle of violence occurred in the region should not obscure the root of the actual problem.
"The root of the problem is the occupation of Palestine by Israel. These actions can not be accepted," said Marty.
Indonesian diplomacy for Palestine Keep Moving
Indonesian diplomatic efforts to help Palestinians keep moving, however, according to him. It is not easy.
"It's not easy to encourage UN Security Council, but Indonesian diplomacy will act as best as possible," he said.
Regarding Indonesian's aids, Marty asserted that the assistance provided was not limited to humanitarian assistance as recently shown.
"Our aids to Palestine is continuous. It is not just humanitarian aid, we have even held International Conference in Jakarta mobilizing the establishment of an independent Palestinian state".
The meeting known as Conference on Cooperation Among East Asian Countries for Palestinian Development (CEAPAD) had successfully mobilized participants from various countries in Asia, the Pacific and Africa to support Palestinians.
Marty also call on all Indonesian citizens residing in Gaza to report to Indonesian Representatives around the country, the closest representative is the Indonesian Embassy in Amman, Jordan.
Regarding placement of Representatives of Indonesia in Palestine, Foreign Minister said Israel's occupation in West Bank caused the placement was impossible, but Indonesian honorary consul in Palestine could be one option for Indonesia in the future. (T/P03/Syt/E01)
Mi'raj Islamic News Agency (MINA)