JORDANIANS  CALLS HAMAS TO INCREASE ROCKET ATTACKS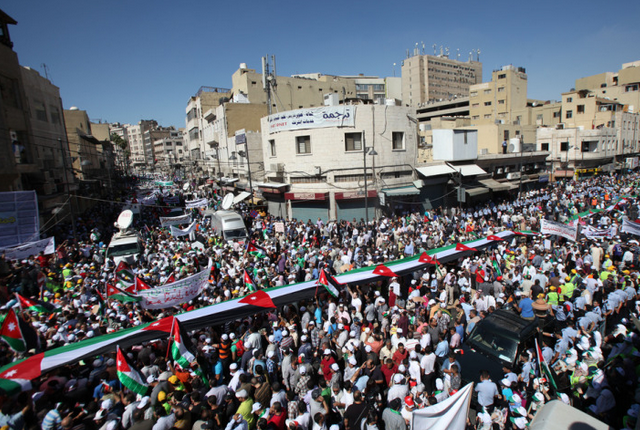 Amman, 24 Ramadan 1435/22 July 2014 (MINA) – Hundreds of Jordanian protesters burnt Israeli occupation flags in Amman as demonstrators called on Palestinian Hamas to step up rocket attacks against Israeli towns and cities to avenge civilian deaths caused by Israel's offensive in Gaza, Sunday (20/7).
Demonstrators near the Israeli occupation embassy in Amman's affluent Rabia district chanted "Death to Israel" in one of the biggest public outpourings of anger against Israel in the last few years, World Bulletin quoted by Mi'raj Islamic News Agency (MINA) as reporting.
More than 60 Palestinians and 13 Israeli occupation soldiers were killed on Sunday as Israel shelled a Gaza neighborhood in the bloodiest fighting in a near two-week-old offensive that has led so far to a death toll of over 400 Palestinians, most of them civilians.
Hundreds of mosques in Jordan held prayers for those killed, and protesters chanted slogans backing Hamas in smaller marches in Amman and in cities and refugee camps across the kingdom.
"O Hamas, Your rockets have raised our heads, hit again and again Ashkelon and Tel Aviv," angry youths carrying a large Palestinian flag shouted.
"O Hamas, you are the gun and we are your bullets," chanted a dozen youths wearing green headbands of the Qassam Brigades, the armed wing of Hamas.
Most of Jordan's seven million citizens are of Palestinian origin, they or their parents having been expelled or fled to Jordan in the fighting that accompanied the creation of Israel in 1948.
Hamas has a large following among nearly two million U.N. registered Palestinian refugees living in refugee camps across the kingdom, which hosts the largest number of Palestinian refugees.
Sheikh Hammam Saed, the head of Jordan's Muslim Brotherhood, the country's largest political party, lambasted Arab leaders for failing to lend support to Hamas.
The leader also slammed Egyptian President Abdel Fattah al-Sisi, for whom Hamas is a security threat because it is an offshoot of the Muslim Brotherhood, for effectively closing the border crossing with Gaza. He said hampering the entry of essential aid was inhumane and leading to the suffering of thousands of civilians.
"These Arab regimes have made us accustomed to taste the bitterness of defeat and now the day has come that someone (Hamas) has ended this humiliation and weakness by their heroic resistance," Saed told the protesters.
Demonstrators also saluted Turkey's Prime Minister Tayyip Erdogan, a vocal supporter of Palestinian people, who slammed Israel for its ongoing violence and criticised the United States and the rest of the world for failing to intervene.
Hundreds of protesters, who were prevented by a heavy cordon of riot police from approaching the building, also demanded the government shut the Israeli embassy and scrap Jordan's peace treaty with the Jewish state.
Jordan is one of only two Arab states to have formally ended hostilities with Israel. But this has never won much domestic favour, given Israel's continued occupation of the neighboring West Bank. (T/Nidiya/E01)
Mi'raj Islamic News Agency (MINA)