Jama'ah Muslimin (Hizbullah) Decides Beginning of Ramadan on Thursday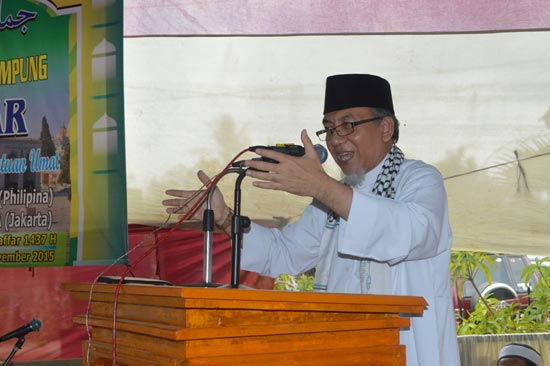 Imaamul Muslimin Yakhsyallah Mansur
Bogor, MINA – Jama'ah Muslimin (Hizbullah) as a forum of Muslim united which centered in Al-Fatah Boarding School compounds, Cileungsi, Bogor, West Java, decided the start of Ramadan on Thursday, May 17.
Imaamul Muslimin Yakhsyallah Mansur stipulated it on the basis of reports of the invisible moon in all regions of Indonesia and other countries in the world after being monitored by some team of rukyatul hilal on Tuesday evening.
"As a responsibility to the Muslims, in performing the worship associated with the months of Ramadan, Syawwal and Dhul-Hijjah, we decided the beginning of Ramadan on May 17," Imaam Yakhsyallah said on Tuesday midnight.
"Hopefully this Ramadan is the best Ramadan," he said in the forum of isbat conference attended by Hisab and Rukyat Council, ulemas and figures.
He hoped the month of Ramadan can be a month of unity of Muslims.
"The purpose of fasting Ramadan is to make people cautious. While the cautious people are putting forward the unity of people, "he said.
He warned, if Muslims who are fasting but they still not united with other Muslims, there is something wrong in the practice or less to appreciate the meaning of fasting Ramadan.
"Muslims must unite, congregation for God, and this will remain eternal until the Day of Resurrection. The cautious should miss the unity of Muslims, "he added. (L/RS2/P2)
Mi'raj News Agency (MINA)