Jama'ah is Solution For Muslims Unity: Abul Hidayat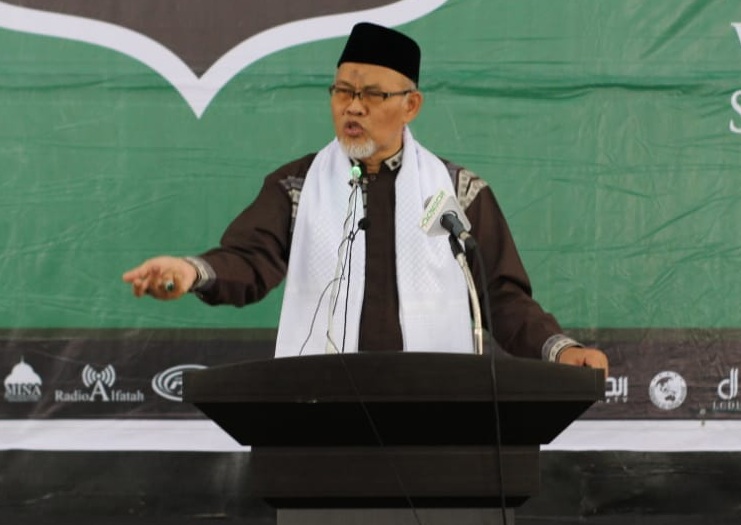 KH Abul Hidayat Saerodjie while delivering his Tabligh Akbar lecture at An Nubuwwah Mosque, Muhajirun, South Lampung (Photo: MINA)
Lampung Selatan, MINA – The condition of Muslims is currently in decline, they are oppressed and lagging behind. Muslims also disagree and divide, even drop and kill each other.
This was conveyed by KH. Abdul Hidayat Saerojie when delivering his message in front of thousands of participants Tabligh Akbar Jama'ah Muslimin (Hizbullah) at An Nubuwwah Mosque, Muhajirun, Negara Ratu, Natar Sub-District, South Lampung, Sunday.
"Muslims in several countries, you are being persecuted, oppressed, like in Palestine, Syria, China, Rohingya, Pattani and many other countries," he said.
Abul Hidayat said that the weaknesses and deterioration of Muslims was due to the invasion and infiltration of thoughts that were deliberately infiltrated by the enemy into Muslims. In addition, there are also internal factors of Muslims themselves who are weak in the face of this raid.
"Today's Muslims are also divided into many groups, making it easy to be pitted and squeezed in their strengths," said Abul Hidayat who delivered a tabligh with the title "Jama'ah Solution to the Unity of People".
It also causes weakness of the Islamic ummah as well, because of the absence of leadership for Islamic World as suggested and exemplified by the pattern of leadership of Prophets and Khulafaur Rashidin Al-Mahdiyin.
"The Prophet Muhammad (peace be upon him) called it Khilafah Ala Minhajin Nubuwwah, which is a pattern of leadership that follows the prophetic footsteps that must be practiced by Muslims as ordered in a hadith," Abul Hidayat explained.
At the end of his lecture, Abul Hidayat emphasized that the potential of more than one billion Muslims, sufficient human resources, would be able to emulate infidels with abundant natural resources.
"This advantage will be a strength if Muslims live together and pray, a unity based on aqeedah and bound by ukhuwah Islamiyah in Khilafah' Ala minhajin nubuwwah, "he said.
Tabligh Akbar and Sya'ban 1440 H Festival are annual events organized by Jama'ah Muslimin (Hizbullah).
More than 10,000 worshipers attended Tabligh Akbar with the theme "Strengthening the Aqeedah of Knitting the Ukhuwwah Islamiyah as the Implementation of Islamic Rahmatan lil Alamiin".
They come from various regions in Indonesia, from Aceh to Maluku, as well as from abroad, such as Malaysia, Philippines and Thailand. (TL/Sj/R04)
Mi'raj News Agency (MINA)