Istanbul Nightclub Attack: At Least 35 Dead After Gunman 'Dressed as Santa' Opens Fire at New Year's Party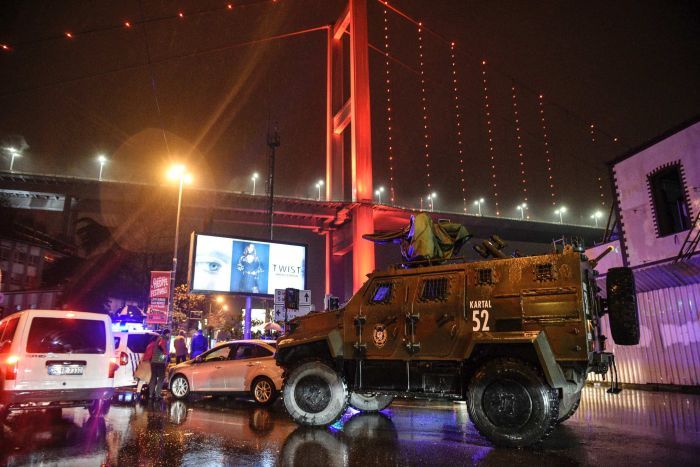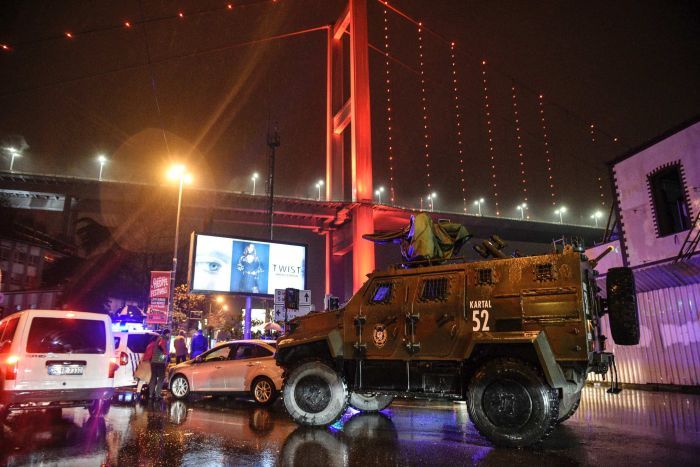 A police armored vehicle blocks the road leading to the scene of a nightclub shooting.
Istanbul, 02 Rabiul Akhir 1438/01 January 2017 (MINA) – Dozens of people have been killed as they celebrated New Year at a Turkish nightclub in a suspected terror attack, independent.co.uk reported.
Officials said at least one gunman reportedly wearing a Santa costume murdered a police officer and a civilian outside Istanbul's famed Reina nightclub before bursting inside.
The attacker opened fire into the crowd of up to 700 people, killing at least 35 and injuring dozens more in the Ortakoy district.
Local reports said some people jumped into the waters of the Bosphorus strait to escape the massacre, which started shortly before 1.30am local time (11.30pm GMT).
CCTV footage from inside the club was broadcast by Turkish media, appearing to show a gunman dressed as Father Christmas walking through abandoned drinks booths.
Witnesses said the man was wearing a Santa costume and speaking Arabic, suggesting he was not Turkish.
One survivor said she had to climb out from beneath bodies inside the nightclub to flee the attack, where her husband was injured.
"Before I could understand what was happening, my husband fell on top me," Sinem Uyanik told the Associated Press outside Istanbul's Sisli Hospital. "I had to lift several bodies from on top of me before I could get out."
Vasip Sahin, the governor of Istanbul, described the event as a "terror attack" but did not name who he thought responsible.
He said one police officer was among at least 35 people killed using a long-barrelled weapon, with 40 others taken to hospital for treatment.
"The attacker – in the most brutal and merciless way – targeted innocent people who had only come here to celebrate the New Year and have fun," Mr Sahin said.
The whereabouts of the gunman was not immediately clear, with some local reports saying he was still inside the club and others saying he had fled, sparking a manhunt.
Armed police blocked off the area as the roads were lined with dozens of ambulances, with clubbers wearing suits and cocktail dresses pouring into the street.
Temporary media blackout
The Turkish government imposed a temporary media blackout on local coverage of the attack, banning the publication or broadcast of anything that could cause "fear in the public, panic and disorder and which may serve the aims of terrorist organisations".
As with those imposed after previous attacks, the order covered the "moment of attack; aftermath of the attack and site of crime; public servants conducting their jobs; injured and dead, exaggerated analysis and anything related to the people suspected of involvement with the attack, their methods of transport and whereabouts".
President Recep Tayyip Erdogan was reportedly being updated on the investigation, while his justice minister Bekir Bozdag vowed that "no terror attack will destroy our unity".
Barack Obama was among the world leaders offering assistance to Turkey following the attack – one of a string of recent massacres by ISIS and Kurdish extremist groups.
"The President expressed condolences for the innocent lives lost, directed his team to offer appropriate assistance to the Turkish authorities, as necessary, and keep him updated as warranted," White House spokesman Eric Schultz said.
Security in Turkish cities had been heightened for New Year's Eve, with 17,000 police officers including some camouflaged as Santa Claus, on duty in Istanbul, according to the state-run Anadolu news agency. (T/RS05/RS01)
Mi'raj Islamic News Agency (MINA)