ISRAELIS KILL PALESTINIAN BABY, TORCH HOUSES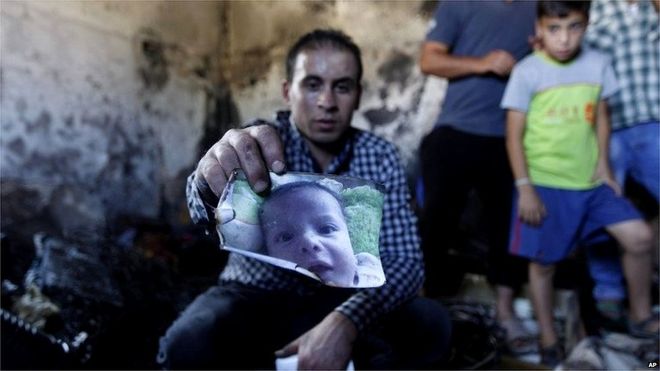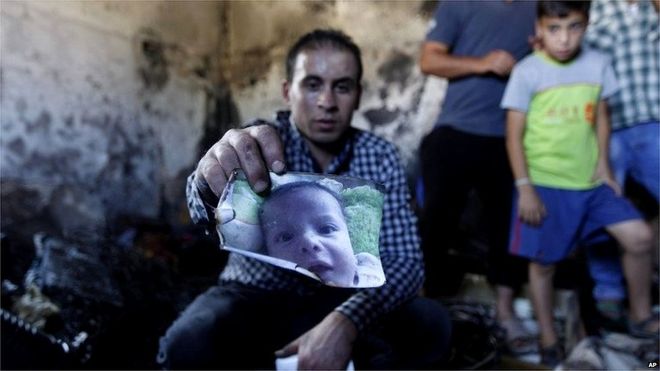 West Bank, 16 Shawal 1436/1 August 2015 (MINA) – The world woke on Friday, July 31, to the news of a terrible crime in which an 18-month-old Palestinian was burnt to death and members of his family severely injured after masked Jewish settlers set fire to two Palestinian houses in Duma village.
The Israeli government "fully responsible for the brutal assassination" of the child, Ali Saad Dawabsha, the Palestine Liberation Organization (PLO) said in a statement cited by BBC
"This is a direct consequence of decades of impunity given by the Israeli government to settler terrorism," On Islam quoted by Mi'raj Islamic News Agency (MINA) as reporting.
According to eyewitnesses, four Jewish settlers hurled fire bombs inside two homes, setting off a blaze that killed a sleeping toddler and critically wounded his parents and 4-year-old brother.
Assailants sprayed painted graffiti reading "revenge" and "long live the Messiah" in Hebrew before breaking the windows of the homes and throwing two firebombs inside.
"We found the parents outside with burns, they said there was another son in the house, we brought him out and they said there was another boy inside, but we couldn't reach the bedroom because of the fire. He was left inside until rescue forces came," Ibrahim Dawabsheh, a Duma resident, told Reuters.
Denouncing Fridays' "price tag" attack, spokesman for Palestinian President Mahmoud Abbas, Nabil Abu Rudeineh, said in a statement released by WAFA: "Such a crime would not have occurred if the Israeli government did not insist on continuing settlement and protecting settlers."
On his part, Saeb Erekat, the chief Palestinian negotiator, called the attack "a direct consequence of decades of impunity given by the Israeli government to settler terrorism," Financila Times reported.
Condemnations
Condemning the attack, the Israeli army said they are trying to identify and locate suspects.
"This attack against civilians is nothing short of a barbaric act of terrorism. A comprehensive investigation is under way in order to find the terrorists and bring them to justice," Lieutenant Colonel Peter Lerner said in the statement.
"The [Israeli army] strongly condemns this deplorable attack and has heightened its efforts in the field to locate those responsible."
A similar condemnation was shared by Israel's prime minister who called the attack "reprehensible and horrific".
"This is an act of terrorism in every respect. The State of Israel takes a strong line against terrorism regardless of the perpetrators," Benjamin Netanyahu said in a tweet.
A year ago, three Israeli settlers abducted and burned alive the Palestinian teenager whose murder sparked angry protests two weeks ago, paving way to Israeli's crackdown on Palestinians and airstrikes on Gaza.
Israel has launched relentless airstrikes against Gaza from July 8 to August 26 where more than 2,100 have been killed and thousands injured.
According to UN Office for the Co-ordination of Humanitarian Affairs (OCHA), about 80% of deaths in Gaza are civilians, including dozens of children and women.
Out of 2,131 Palestinians who died in the latest fighting, 501 were children, said the United Nations.
About 70% of the children killed were under 12, according to the UN children's agency, UNICEF. (T/P011/R03)
Mi'raj Islamic News Agency (MINA)