ZIONISTS ASK FOR MORE MILLIONS OF DOLLARS US FUNDING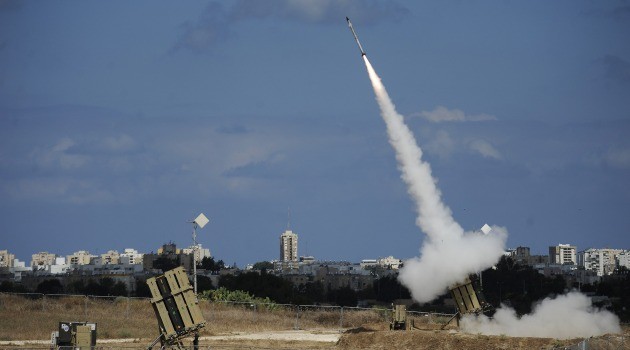 Gaza City, 26 Ramadan 1435/24 July 2014 (MINA) –  Israel occupation regime has requested an additional $225 million in United States funding for the production of Iron Dome components, in light of the wide-scale use of the system during the latest Zionist aggression in Gaza.
The additional funding, if granted, will increase Iron Dome funding from the U.S. to more than half-a-billion dollars in the current financial year, Israeli daily Haaretz quoted by Mi'raj Islamic News Agency (MINA) as reporting.
In a letter to the leaders of both houses of Congress on Wednesday, U. S. Defense Secretary Chuck Hagel wrote that the US Department of Defense "has reviewed and supports this urgent request."
Both houses, which previously doubled the Iron Dome allocation requested by the administration, are expected to accede to the request.
Israeli occupation sources have said in recent weeks that the country has a sufficient stockpile of the interceptor missiles currently fired by nine Iron Dome batteries in the south and center of the country.
Hagel, however, wrote of "Israel's critical missile defense needs in light of the ongoing conflict in Gaza."
"The Iron Dome system has saved countless Israeli lives since the start of the operation in Gaza," Hagel wrote.
Hagel further requested that the emergency allocation be exempt from the terms and conditions of the U.S-Israel Iron Dome Procurement Agreement, which stipulates that Israel will continue to develop co-production of lron Dome components in the U.S.
"On behalf of the Administration, I ask for your support in meeting Israel's critical missile defense needs in light of the ongoing conflict in Gaza," Hagel demands.
In the previous battle with Gaza in 2012, Israel  also asked for US  help estimated at $700 million in order to produce more Iron Dome and Magic Wand missile and rocket defense batteries, sources told Ynet.
The Iron Dome is designed to intercept rockets fired from a relatively short range, while the Magic Wand intercepts missiles fired from a range of at least 70km, including cruise missiles and missiles with ballistic warheads such as the Squd, Shihab and Sejil. (T/P03/E01)
Mi'raj Islamic News Agency (MINA)