Indonesian Official Lauds Kuwait's Humanitarian Aid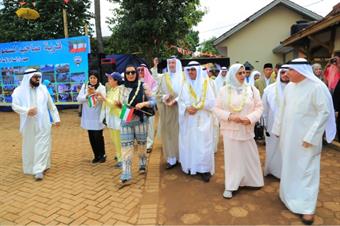 Garut, Indonesia, 09 Safar 1438/09 November 2016 (MINA) – Indonesia's Deputy Regent of Garut Helmi Budiman has extolled the Kuwaiti humanitarian aid provided to Indonesians.
This came on Tuesday in Budiman's speech delivered during a festival of International Islamic Charitable Organization (IICO), co-sponsored by Sheikh Aisha Mubarak Sabah Al-Nasser Al-Sabah and Sheikha Mariam Al-Sabah on the occasion of opening two institutes: a training center for boys and housing units for girls.
According to KUNA news agency, a number of Kuwaiti donors funded the projects in the Garut town in the province of West Java.
Garut's population numbering three million appreciates highly the Kuwaiti projects, mainly the town as it includes facilities and an education body, Budiman said.
He added that the institutes inaugurated today are considered the two largest ones in West Java as they are serving about 2000 male and female students.
He called for supporting humanitarian and developmental projects in the province.
Budiman lauded the level of the Kuwait-Indonesia relations in different fields, voicing his appreciation to all Kuwaiti bodies backing his country.
Reflect deep meaning of cooperation and solidarity
Meanwhile, Sheikha Aisha Mubarak Al-Sabah said carrying out such developmental and humanitarian projects for Indonesians reflect the deep meaning of cooperation and solidarity amongst peoples of the Muslim world.
She added that the State of Kuwait and Kuwaitis have been backing brothers, sisters and friends who are in distress all over the world, expressing her pride for being in the Indonesian town to attend the opening ceremony.
She noted that Kuwait's strong role in humanitarian action has caught the attention of the world and all global institutions.
She recalled that His Highness the Amir was named by UN Secretary General Ban Ki-moon in 2014 as a "Humanitarian Leader," and Kuwait as a "Humanitarian Center" due to the efforts exerted in this regard.
For his part, First Secretary at the Kuwait Embassy in Jakarta Abdullah Al-Fadhli said Kuwait and Indonesia have deep-rooted relations in all fields, mainly the humanitarian action.
He expressed his pride that Kuwaitis have been providing humanitarian action to needy people across the globe.
Mohammad Al-Aloush, a donor, said such projects carried out in Indonesia aim to alleviate effects of crises and natural disasters facing the country with a largest Muslim population.
Kuwait's aid has been reaching all places across the globe, thanks to Kuwait's men and women who devoted their lives to help needy people through such projects, he noted. (T/R07/R01)
Mi'raj Islamic News Agency (MINA)