Indonesia International Book Fair 2017 Officially Opened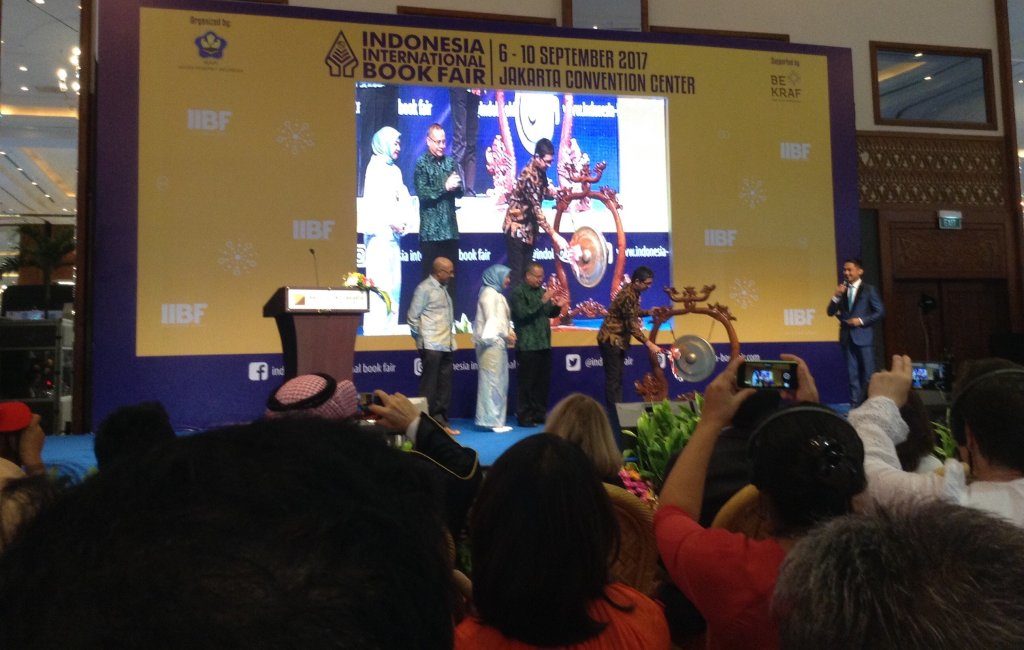 Jakarta, MINA – The Indonesia International Book Fair (IIBF) 017 officially opened Wednesday (6/9). Bearing the theme "It is a book affair", this book exhibition takes place at Assembly Hall Jakarta Convention Center (JCC), Senayan for five days until 10 September.
Chairman of the Indonesian Publishers Association (IKAPI), Rosidayati Rozalina, said IIBF is improving itself by doing transformation and is trying hard to accommodate the standard requirements as an international book fair, leaving no traditional character as a retail exhibition. The current Internet era allows many things to be done online.
"IKAPI sees the need for the presence of a book fair because it glorifies authors and readers. Here, they get the stage of honor to interact, exchange ideas and argue, as well as to show the existence of being clever people they do not enjoy on many other occasions, "Rosidayati said in her speech.
The Leader of the Creative Economy Agency (Bekraft), represented by Ricky Josep Pesik, said that IIBF is not only economically useful but also a cultural diplomacy tool.
"Of the 16 sub-sectors of the creative industries under the auspices of Bekraf, the publication is ranked fifth in the contribution of Creative Economy GDP (Ekraf), contributing Rp53, 59 trillion or 6.29%. I'm sure the publishing world in this country has a bright future. The rich diversity of cultures, has the opportunity to realize Indonesia as the world's major book producer and consumer, "he said
IIBF Committee Chairman explained IKAPI and IIBF committee will continue to work to realize the prestigious IIBF internationally and at the same time friendly for domestic publishers.
"Stand with an affordable price, busy visitors, many transactions, abundant events are among the targets set," he added.
This year IIBF is participated by more than 15 countries including Indonesia, Philippines, Malaysia, Singapore, Thailand, Taiwan, China, Korea, Japan, Germany, France, Netherlands, Bosnia, India, Egypt, Saudi Arabia and Britain. Several countries were present as buyers. Books from overseas publishers joined in foreign book booths. Apart from Indonesian publishers, IIBF also presents books from overseas publishers.
A number of institutions that participate and provide support in the implementation of IIBF 2017, including the Ministry of Education and Culture, National Library of Indonesia, and the local library, the Provincial Government of DKI Jakarta, Corruption Eradication Commission, Bank Central Asia, and others.
The series of activities held at IIBF target all segments and circles associated with publishing and literacy. Presenting Indonesian and foreign writers.
Held since 1980, IIBF is an annual exhibition organized by IKAPI. IIBF.
This year is the 37th edition. Since transforming in 2014, IIBF has become an international book exhibition. (LT/R04/RS5)
Mi'raj News Agency (MINA)