INDONESIA GOVT DECIDES 1 SHAWWAL FRIDAY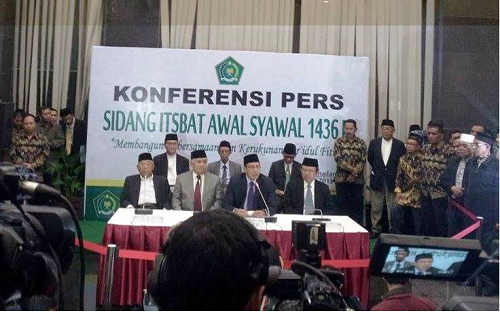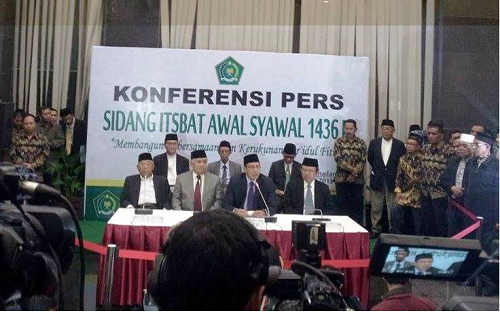 Jakarta, 29 Ramadan 1436/16 July 2015 (MINA) – The Indonesia government through the Ministry of Religious affairs decided the beginning of Shawwal 1436 on Friday, July 17th, 2015.
The decision was issued after receiving a report of the results of rukyatul hilal Team members who monitoring the observation of the new moon in 120 locations in 33 provinces throughout Indonesia.
The Minister of Religion affairs, Lukman Hakim Saifuddin said there are four regions which have seen the new moon. There are Gresik, Lamongan, Bojonegoro, and the Pulau Seribu.
"Based on the testimony, there are four locations who managed to see the new moon, first in Bukit Dripo Gresik five witnesses; second Tanjung Kodok Lamongan; third in Bojonegoro district, deputy of the regent witnessed it; and fourth in Pulau Seribu Islands," he stated.
"After listening to the consideration of each Islamic organizations. The meeting agreed tonight is 1 Shawwal 1436, "said Lukman Hakim Syaifuddin in Jakarta, Thursday afternoon.
Based on the recogning data (hisab) the new moon of Shawwal 1436 in Indonesia ranged from 1.5 to 3 degrees. The height of the new moon in Pelabuhan Ratu region (West Java province) reached 3:11 degrees, age of hilal, 9 hours 26 minutes 52 seconds, distance of degree 5.72 arc, and the illumination fraction 0,32%.
While the visibility of the new moon (imkanurrukyat), the Directorate General of Islamic Community, Indonesian Ministry of Religious Affairs, the high of hilal 2 degrees, elongation Moon-Sun 3 degrees and age of new moon of 8 hours.
The assertion was made by the expert of Rukyat and Hisab Agency the Ministry of Religious affairs, Cecelia Nurwendaya.  He explained the position of the new moon in the beginning of Shawwal 1436 in the ministry headquarters, Jl. MH. Thamrin No. 6, Jakarta.
The meeting was directly led by the Minister of Religious Affairs, the Chairman of Indonesian Ulema Council (MUI) KH. Din Syamsuddin, MUI Fatwa Commission Chairman KH. Makruf Amin, Ambassador of Islamic countries, leaders of Islamic organizations, as well as officials of the Ministry of religion.
Cecelia Nurwendaya explained, the new moon can be viewed by six persons: Mohammad Arief and Muhadir (Pare-Pare), Abdul Hamid (Jakarta), Ma'mur (Sukabumi), and Endang Efendi (Sukabumi) (L / R05/R03)
Mi'raj Islamic News Agency (MINA)