Indonesia Calls for Joint Maritime Patrols to Combat Islamic Militants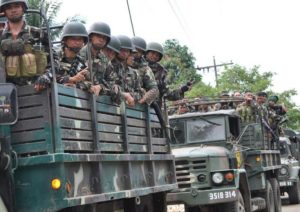 Jakarta, 19 Rajab 1437/27 April 2016 (MINA) – Indonesia on Tuesday proposed launching joint maritime patrols with Malaysia and the Philippines to counter an Islamic extremist group that beheaded a Canadian hostage a day earlier.
Indonesian President Joko Widodo's call for greater cooperation in maritime security follows a surge in piracy and kidnappings of local seafarers and Westerners by Abu Sayyaf. The extremist group, which claims ties to Islamic State, has defied decades of attempts by the U.S.-backed Philippine military to eradicate it.
"We can't let this continue," the Indonesian leader said, announcing a meeting of the three countries' foreign ministers and top military commanders this week in Jakarta.
He said they would try to establish combined patrols of the Sulu Sea and other southern Philippine waters where Abu Sayyaf operates.
The governments of the Philippines and Malaysia didn't immediately comment on the proposal. The countries each conduct patrols of their own territorial waters but haven't carried out joint patrols before, wsj.com was quoted by Mi'raj Islamic News Agency (MINA as reporting.
The group has proven tenacious and could become a bridgehead for Islamic State in Southeast Asia, some security analysts say.
"Islamic State has its eyes on the Philippines," said Richard Javad Heydarian, a security expert at Manila's De La Salle University, adding that it would like to establish "a distant caliphate in Mindanao," the Philippines' main southern island with a Muslim-majority population.
Mr. Heydarian said a new defense pact between Washington and Manila under which U.S. forces will soon gain access to an air base on Mindanao could prove vital to combating Abu Sayyaf.
Lack of capacity
The U.S. also recently launched a $425 million Southeast Asian Maritime Security Initiative designed to boost the patrol and surveillance capabilities of countries in the region.
Zachary Abuza, a security expert at the U.S. National War College, said joint patrols may be the best way to curb Abu Sayyaf's influence, especially with U.S. and Japanese cooperation, because the Philippines lacks the capacity to do so alone.
"The only way to end it is to neutralize the perpetrators and start to impose rule of law," Mr. Abuza said.
John Ridsdel, the Canadian who was killed Monday, was kidnapped along with another Canadian, a Norwegian and a Filipino from a resort in September. Since then, Abu Sayyaf has abducted 10 Indonesian and four Malaysian mariners, fueling concerns about the security of fishing grounds and sea lanes. The group beheaded a Malaysian hostage in November.
Abu Sayyaf had demanded a ransom payment of about $6.4 million each for Mr. Ridsdel and the other hostages, and threatened to kill one of the hostages if they didn't receive the ransom money on Monday.
Canadian Prime Minister Justin Trudeau condemned the killing as "an act of coldblooded murder."
Philippine President Benigno Aquino III ordered the military and police on Monday to rescue the remaining hostages. The military said on Tuesday that those efforts were still under way.
The Philippine military has for years struggled to eliminate Abu Sayyaf, which is believed to number only a few hundred fighters.
In early April, 18 soldiers were killed and 52 were injured in an ill-fated attempt to kill or capture Abu Sayyaf leader Isnilon Hapilon. Islamic State claimed responsibility for the deaths, but the military dismissed that as propaganda and said there was no direct link between the two organizations.
On Friday, seven Philippine troops were injured in another firefight, the military said. (T/R07/R01)
Mi'raj Islamic News Agency (MINA)