HUNDREDS EXPATRIATES IN SAUDI REVERT TO ISLAM IN RAMADAN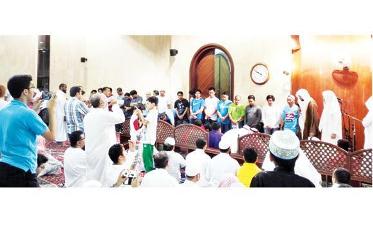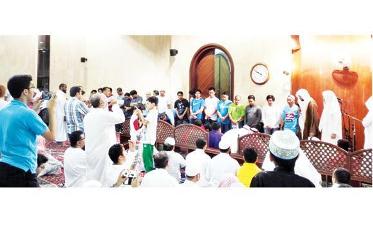 Riyadh, 29 Ramadhan 1436/16 Juli 2015 (MINA) – As spirituality reaches its peak at the end of Ramadan, 644 expatriates have reverted to Islam during the holy month in Saudi Arabia, pronouncing Shahada or declaration of faith at a Riyadh mosque.
"In Ramadan, our guests see and witness themselves the spirit of generosity, brotherhood and integration through offering daily meals to those who are fasting," Sheikh Nooh Al-Qurain, the head of the Islamic Da'wah center in Batha, told Arab News.
"Passersby and even strangers are invited to join others in their iftar. On Islam reports as quoted by Mi'raj Islamic News Agency (MINA).
"We even invite non-Muslims to join the Iftar," he said. "I encourage people, companies and sponsors to introduce the beautiful teachings of Islam by treating the workers with respect and value."
Sheikh Nooh said that nearly 4,000 foreigners have reverted to Islam through his center from various nationalities since the last Ramadan.
The latest group of 21 expatriates pronounced the Shahadah at a mosque in Dhubbat district, bringing the number of expatriates who embraced Islam through that mosque to 74 since the beginning of the fasting month.
The increasing number of reverts was reported despite increasing anti-Muslim attacks.
The good manners of Muslims were the key to correct misconceptions about their faith, the Imam of the grand mosque in Dubhat district, Malaz, Sheikh Turky Qelaiwy, told Arab News.
"When you treat them according to the teachings of Islam, they will certainly find the religion as the right one for humanity and faith to be adopted," he added.
Ramadan is the holiest month in Islamic calendar.
In Ramadan, adult Muslims, save the sick and those traveling, abstain from food, drink, smoking and sex between dawn and sunset.
Muslims dedicate their time during the holy month to become closer to Allah through prayer, self-restraint and good deeds.
Around the globe, Muslims observe Ramadan with a set of traditional rituals including family gathering at iftar, religious lessons, special evening prayer and helping the poor, Muslims and non Muslims alike.
The rate of non Muslims who embraced Islam this year month of Ramadan has increased.
Earlier in Ramadan, about two hundred and twenty Philippine nationals in Saudi Arabia reverted to Islam a few days after sharing iftar with the Islamic Guidance Office in Makkah.
The same month saw twenty expatriate workers from the Philippines reverted to Islam in a Riyadh mosque after worshippers concluded taraweeh prayer.
The expats, most of them from the Philippines, all work at King Abdulaziz University Hospital in Riyadh.
Last April, 600 Chinese workers have reverted to Islam, after being introduced to the tenets of Islam by Islamic scholars in the Muslims' most holy city of Makkah.
The news followed earlier reports last January when 500 Chinese Muslims reverted to Islam after being touched by the "simplicity" of the funeral of the late King Abdullah bin Abdul Aziz. (T/P002/R03)
Mi'raj Islamic News Agency (MINA)