'HIJABERS IN LOVE' IS EVENT FOR MUSLIM WOMEN SOLIDARITY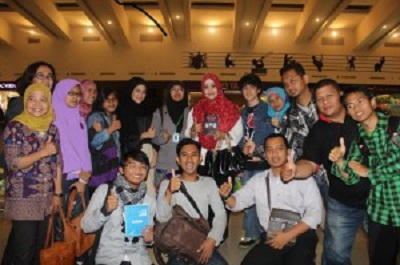 Jakarta, 14 Dzulqa'dah 1435/9 September 2014 (MINA) – Watching together a movie  titled "Hijabers in Love" is an event for solidarity of Muslim women who wear hijab with its risk. It is collaboration between Bandung government and  film industry. The movie get different responses and criticisms from audiences.
According to member of the Education Commission and Cadre of Indonesian Ulema Council (MUI, Majelis Ulama Indonesia), Fahira Idris, the event was intended for solidarity of Muslim women who chose to wear the hijab with its risk.
"We and MUI plan to hold hijab conference in Indonesia to support Muslim women who get discrimination in wearing hijab," he told to Mi'raj Islamic News Agency (MINA) reporter in Pejaten Village, Jakarta on Monday (9 September 2014).
The movie will be played in 21 different regions in Indonesia such as East Java, Central Java, West Java and Makassar as well as Jabodetabek (Jakarta, Bogor, Depok, Tangerang, Bekasi) which have special schedule in some malls on early September .
Ridwan Kamil, the mayor of Bandung along with thousands of spectators attends the event. The young community in Bandung said that they enjoyed the movie.
Diana Paramitha, representative of Bandung Hijabers Community said that the event gave privilege to the hijabers, especially hijabers in Bandung. They could watch "HIJABERS IN LOVE" before the movie was played in theaters simultaneously.
There was a protest which was directed to this young genre movie. The protest was from Twitter user who uploaded poster (cover of the novel adaptation) of "Hijabers in Love" movies.
The user did not only upload picture, but also wrote, " O God … why are hijabers imaged like this? We as hijabers are not contemptible, selling love easily… ". The account owner has more than 20 thousand followers. Thus, his followers react immediately. (L/K03/R04/P009/P3)
Mi'raj Islamic News Agency (MINA)