Erdogan Praises New Zealand's Acts Taward Terrorism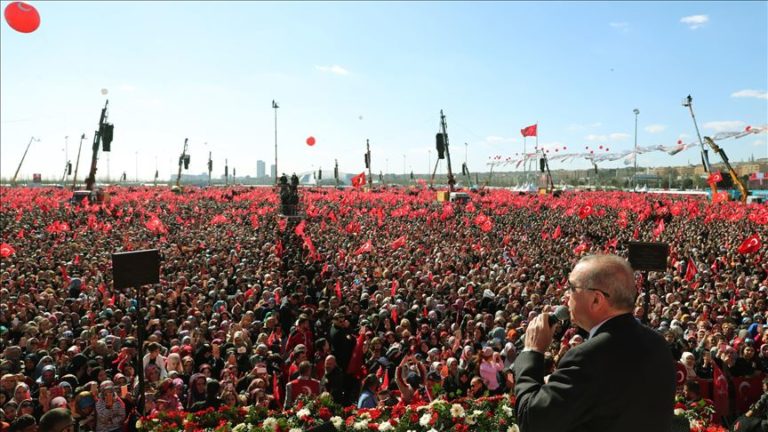 Istanbul, MINA – Turkey President, Recep Tayyip Erdogan praised human attitude of New Zealanders after the attack on two mosques in Christchurch last week.
"New Zealanders give humanitarian lessons to those who don't get a share of humanity," Erdogan said in a live broadcast in Istanbul on Sunday.
At least 50 Muslims were killed and others injured on March 15, when a terrorist identified, born in Australia entered Al Noor and Linwood mosques in Christchurch and shot merciless worshipers. Thus Anadolu Agency report reported as quoted by MINA.
As hundreds of people gathered in front of the mosque to pay homage to the victims after New Zealand Prime Minister Jacinda Ardern called for unity and solidarity with Muslim community.
During the direct interview, Erdogan also praised masses who had gathered in the attack and community action to honor victims.
Erdogan said, New Zealanders could never be linked to terrorism.
"They organized memorial services, gathered at the scene and left flowers to pay homage to victims. This is a humanitarian action. We cannot ignore this humanitarian action, "he said.
This Turkish leader, once again, expressed his heartfelt gratitude to the people of New Zealand for their firm stance against terrorism and solidarity for victims.
Erdogan stressed that the attack in Christchurch was not an individual but organized act of terrorism.
He believes authorities in New Zealand will uncover perpetrators behind the attack.
The president also praised Prime Minister Jacinda Ardern for his expressions and assertiveness that deserved applause after the attack. (T/Sj/P2)
Mi'raj News Agency (MINA)