Duterte May Sign Draft BBL on Eid'l Fitr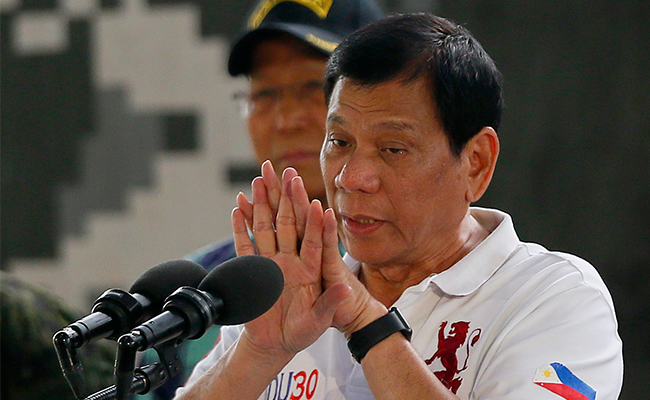 Duterte said he and the MILF leaders would meet on Monday for a "frank" discussion on the BBL provisions.
Manila, Philippines, 27 Ramadan 1438/22 June 2017 (MINA) – President Duterte will review the draft Bangsamoro Basic Law (BBL), the legislation that seeks to implement the peace agreement between the government and the Moro Islamic Liberation Front (MILF), and may sign it on Monday during Eid'l Fitr.
Duterte said he and the MILF leaders would meet on Monday for a "frank" discussion on the BBL provisions.
"The BBL has been completed. And the MILF will give it to me. I will sign it during the Eid'l Fitr," Philstar qquoted the President as telling journalists in Cagayan de Oro City last Wednesday.
He was referring to the end of the Muslim holy month of Ramadan to be celebrated on Monday.
"We made a promise to the MILF that it would be on time. And we'll meet in Malacañang on Eid'l Fitr. It would be better to be frank," Duterte said.
Duterte will examine the draft BBL before endorsing it to Congress.
If I find things in order, I will sign it. And wait for the document, the formal one and I'll send it to Congress," he said.
The President does not see the need to certify the measure as urgent because Congress still has time to deliberate on it.
"But I have to review it. And I have to point out to them that there are provisions that have to wait for an amendment in the Constitution and those that are doable now," he said.
Based on original draft law with practical provisions
The Bangsamoro Transition Commission (BTC) – a panel of representatives from the government, MILF and local stakeholders – completed the draft BBL earlier this month. The measure aims to form a new Bangsamoro political entity with enhanced political and economic powers.
The BBL was bypassed by the 16th Congress because of questions on its constitutionality. Its passage was also impeded by the backlash over the Mamasapano massacre that left 44 police commandos killed in 2015.
Irene Santiago, chair of the government implementing panel for Bangsamoro accords, has said the new BBL was based on the original draft law but has practical provisions on the transition between the passage of the measure and its ratification.
"We are hoping and planning that the President will mention it in the SONA (state of the nation address) and say that, 'This is a priority bill for me,'" Santiago said in a press briefing on June 8. (T/RS5/RS1)
Mi'raj Islamic News Agency (MINA)