US-Taliban Signs Peace Agreement in Doha, Qatar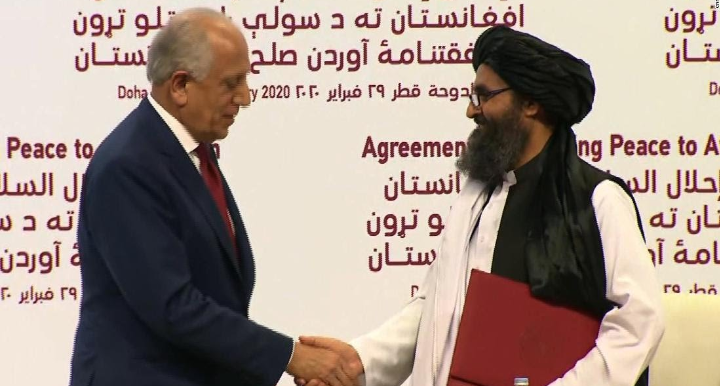 Abdul Ghani Baradar, leader of the Taliban delegation (right) with Zalmay Khalilzad, U.S. envoy for peace in Afghanistan when signing a peace treaty in Doha, Qatar, 29 February 2020 (photo special)
Doha, MINA – The United States and the Taliban have signed a historic agreement as an initial step to end the 18-year war and reconcile between the Taliban and Afghanistan.
The signing of the agreement between the US and Taliban was carried out in Qatari City capital, Doha on Saturday, February 29, 2020.
The US was represented by Zalmay Khailzad, the special envoy who was also the Special Representative for the Reconciliation of Afghanistan and Taliban represented by the chief negotiator, Mullah Abdul Ghani Baradar.
The US Secretary of State Mike Pompeo was a witness to the signing of the agreement. The US Defense Secretary Mark Esper was in Kabul, Afghanistan to celebrate a joint declaration with Afghan President Ashraf Ghani.
With the peace agreement reached with the Taliban, the way for the US to repatriate all of its troops, which reached 13,000 troops in 135 days, thus quited from CNN.
"Pompeo said the United States would look closely at the Taliban about fulfilling its commitments and calibrate our double withdrawal," Pompeo said of this historic agreement.
"This is our way of ensuring that Afghanistan is no longer a place for international terrorists," Pompeo said again.
"Today is a monumental event for Afghanistan. It's about bringing peace and carving a better future together. We are with Afghanistan," the US embassy in Kabul said via Twiitter.
The principle of the agreement was discussed from the beginning led by Khalilzad representing the US government. In early September 2019, both parties reached the principle of agreement. (T/RE1)
Mi'raj News Agency (MINA)