DPCW: A New Approach to Peaceful Coexistence among Ethnic Groups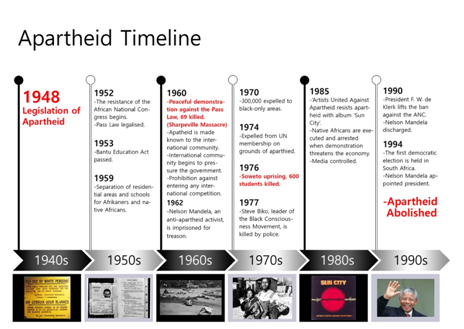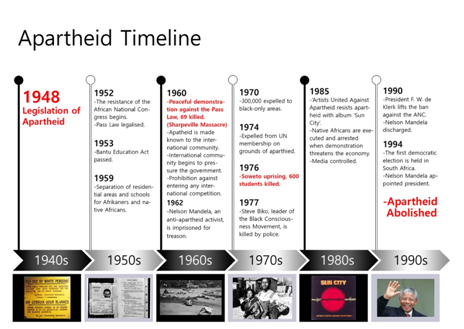 A multilateral proposal for peace, coexistence and mutual understanding 
By: Press and Media Department of Heavenly Culture, World Peace, Restoration of Light (HWPL)*
About 4 years have passed since Nelson Mandela, the conscience of humanity in both South Africa and the globe, passed away.
The long struggle for rebuilding human rights by Mr. Mandela and his advocates came to have a light when South Africa in 1994 declared the abolition of apartheid, one of the worst violations of human dignity.
Has the abolition of apartheid and peaceful passing-away of Nelson Mandela led to a whole new reality in South Africa? Sadly not.The conflict between ethnicities is still ongoing. It still casts a deepdarkness, making the future of South Africa uncertain.
Beginning of Discrimination
As apartheid became an official law, policies that discriminated against people with colour increased. The Pass Law forced Native Africans to carry identification; the Reservation of Separate Amenities Act separated living area, schools, etc., according to ethnicity; and the Prohibition of Mixed Marriages Act forbade marriage among different ethnicities.
Native Africans began to resist when the suppression intensified. Hatred and struggle against Afrikaners (An ethnic group in South Africa composed mostly out of Dutch settlements in Cape Town. This ethnic group also includes Huguenots from France and Protestants from Germany who migrated to Southern Africa in pursuit of liberty) mounted even further after the Soweto Uprising of 1976 and the death of Steve Biko, the anti-apartheid activist. Afrikaners respondedto even more aggressive oppression and tighter regulations, deepening the hostilities.
Nelson Mandela, as the chief of an armed wing called Umkhonto we Sizwe (Spear of the Nation), was arrested for having attacked Afrikaner organisations several hundred times since 1964. He was only freed in 1990 when President de Klerk lifted the bans on anti-apartheid groups.
Mandela then served as the president of the African National Congress (ANC). And on the fourth year since he was discharged from prison, the first election that included Native Africans as voters was held after consultation between the Afrikaner government and the Native African party. In May the same year, he became the first native African president of South Africa. Thereafter, the problem of racial discrimination that had lasted for decades was officially abolished through numerous negotiations.
In his presidency and life, Mandela led the movement for peace in South Africa through 'harmony, forgiveness, and love', instead of 'fighting and revenge'. After being elected president,heorganised the Truth and Reconciliation Commission to deal with the unfortunate conflict in the past. The ultimate goal was to give a chance of repentance to racism offenders and make sure the victims of state violence within that era were not forgotten.
He left a famous quote that is still on the lips of the people: "No one is born hating another person because of the color of his skin, or his background, or his religion. During my lifetime I have dedicated myself to this struggle of the African people. I have fought against white domination, and I have fought against black domination. I have cherished the ideal of a democratic and free society in which all persons live together in harmony and with equal opportunities."
The Abolished Policy and the Aftermath, Yet to be Resolved
Although apartheid entered the history books in 1994, its aftereffects still exist. Through the Bantu Education Act, which had taken root over a period of forty years since the 1950s, the quality of education between Afrikaner and other ethnicities have widened.
This impacted job opportunities and salaries. Chances for choosing one's residential area and job were not equally given, which led to economic polarization and unemployment. According to Business Tech, a South African media agency, there is an average 32% difference in salary between Afrikaners and Native Africans in the country (As of July 2016).
It is also argued that antagonism against apartheid resulted in reverse discrimination as well. One citizen in the Orania region said "We can't get jobs. It's like we are being punished for the past." In addition, after the regime change, power and water to three white squatter camps was cut off – making the local residents miserable.
This shows South Africa's challenge in social cohesion, in that the anti-apartheid policy to eradicate racial discrimination actually bring about reverse discrimination.
So, do racial discrimination problems only occur in South Africa? Apartheid still exists in our societies – only differing in intensity. In the UK, in June 2016, the Labour Party MP who was leading the cause for protection and migration of Syrian refugees was killed by Thomas Mair.
It was reported by the Guardian that the murderer was discovered to be a supporter and subscriber of a far-right, pro-apartheid group called the White Rhino Club, which harbored ill-will toward the migrants.
Also, last February, a bill was passed which legalized illegally built settlements on Palestinian land. This received much condemnation from the international society.
Mahmoud Abbas, the president of Palestine, stated "What we want is peace … but what Israel does is to work towards one state based on apartheid." In addition, Secretary-General of the UN Antonio Guterres warned, "Legalisation of the Israeli settlement in Palestine is a violation of international law."
Religion, Ethnic Identity and Peace
Overcoming racial discrimination and the ensuing socio-financial gap requires the peaceful cooperation of the global village based on human rights and democracy. Heavenly Culture, World Peace, Restoration of Light (HWPL), an organisation registered under the UN Department of Public Information (DPI), is creating a collective voice, gathering all the efforts for peace from around the world.
With this as a background, international law experts associated with HWPL have drafted the Declaration of Peace and Cessation of War (DPCW). HWPL is calling for urging the international community to make a collective effort for peacebuilding based on this peace initiative.
Among the 10 articles and 38 clauses, Article 9 of the DPCW, 'Religion, ethnic identity and peace', addresses the need to settle ethnic or religious conflicts that can threaten peace in countries. Article 10, "Spreading a Culture of Peace" emphasizes the global cooperation to build a foundation of agreement for peacebuilding efforts.
HWPL has branches in Indonesia, Cambodia, Uganda, India, Israel, etc.to conduct peace projects such as campaigns, seminars, and peace education with local communities. International Peace Youth Group (IPYG) contributes to raising awareness in youth empowerment for peace.
HWPL and IPYG South African branch are working to settle a culture of peace in which youths play a key role. On 28th May,the 2016 Peace Walk Festival was held to commemorate the third anniversary of the proclamation of the Declaration of World Peace. 1,300 people including the Cape Town city councilor and women members of United Nations for Youth graced the event with their presence.
The event instilled recognition of peace among citizens, with booths for the "Legislate Peace" Campaign, sharing of activities of the HWPL Peace Advocacy Committee, and diverse cultural performances.
On 10thDecember 2016, the 'Creating a Culture of Peace Festival' was held to introduce the DPCW to the public and conduct an advocacy event for the "Legislate Peace" Campaign.
On top of these events, on the 23rd of February this year, IPYG hosted 'A Piece of Peace: The Peace Forum' in cooperation with African Unite.
At this forum, education to aid understanding of the DPCW; discussion on universal issuesof humanity such as education, women, children, refugees, conflicts, etc. to take part in the UN Sustainable Development Goals (SDGs); and debate on the role of youth in achieving peace and local safety took place.
The Senior Research & Monitoring Specialist of the Africa Monitor, a South African organisation founded in 2006 under the principles of 'protecting the human rights' and 'construction of a just society', Mr. Yared Tsegay, stated "Apartheid was over for more than 23 years. But if you look into South Africa, you experience apartheid every day. It is over officially, but in a material sense, people who were discriminated during that period are still in that situation where they are very much poor, the lives are not good. I would say the consequences are still there in a way. In the community where violence breaks out frequently, the DPCW will bring a lot of differences."
He also added his expectations on IPYG's peace activities and its results: "I think IPYG is a good initiative. It involves young people and trying to make them champions of peace. In terms of South Africa, most of the violence is committed by young people. So trying to involve young people in IPYG's peace activities, learn resolving conflicts and peace communication effects: I think that has a great impact." (R01/RS5)
Mi'raj Islamic News Agency (MINA)
*The HWPL is an international peace organization in association with UN Department of Public Information (DPI)