Defending Palestinian Prisoners in Israeli Prisons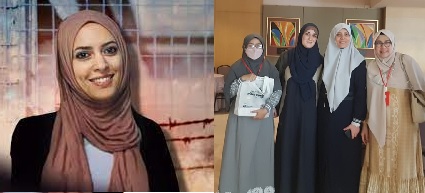 Khader Adnan (45 years) is a Palestinian who died in an Israeli prison after a long hunger strike due to inhumane treatment by prison administration.
It is not only Adnan, but also Fatima Shaheen (33 years) became the first woman to meet her martyrdom in the Israeli Zionist iron bars.
Shaheen is a tough woman who is willing to risk her life for the cause of the Palestinian people. Her aspirations are noble, she wants to stop the Israeli Zionist atrocities against the Palestinian people and tell the world about the struggle of his people against occupation and Zionist apartheid in his country.
According to data from the Ministry of Prisoners' Affairs (MPA), at least 189 Palestinian prisoners have died in Israeli prisons since 1967.
The Israeli forces detained 34 Palestinian women prisoners, out of about 4,900 detainees, and among them there were 1,083 administrative prisoners (imprisoned without trial), including 7 children, 2 families and 15 journalists.
While the number of sick prisoners reached 700 people. They suffer from a variety of conditions, including 24 inmates with cancer and tumors with various conditions.
The biggest cause of death for prisoners is due to torture by the Zionist regime, in prisons that are completely unfit for humans and the neglect of health services for prisoners.
The hunger strike is the only way the prisoners can protest against the barbarity of the Israeli Zionists. They are willing to do it for months. Among them many met their martyr (passed away) in prison.
Prison Conditions
According to a 2017 Israeli Supreme Court ruling, every detainee must have a minimum of 4.5 square meters of space, including a bathroom and toilet. The ruling also stated that Palestinian administrative prisoners should be released every year to reduce prison overcrowding.
However, the law was amended by the Israeli Minister, Itamar Ben-Gvir in 2023. He puts strict pressure on the prisoners by narrowing down the detention rooms so that they don't get access to proper water, toilets, beds, and health services.
In addition, Ben Gvir also amended the regulations which removed the possibility that prisoners could be free for less than a year, even if they were arrested and detained without clear charges and there was no trial for them.
Ben-Gvir's policy, which later received a strong reaction from various humanitarian agencies, was his call to kill Palestinian prisoners if it was a bother, and not to hand over the bodies of the dead prisoners to their families.
The most notable sufferings felt by the prisoners were not being able to move freely inside the prison, the ventilation was very bad because there were no windows inside, and one room only contained one bed, even though there were at least five people.
A photographer named Tomer Iffrah had the opportunity and gained access to enter the Nerve Tirza women's prison, Ramle, Israel.
Iffrah was also given the opportunity to talk to several inmates and finally she was able to take pictures and describe a lot of life in the prison.
For three months, she spent one day a week in the prison and got a lot of information and insight into the life stories of Palestinian women prisoners.
Photos of Ifrah later circulated widely, showing the dark side of life in Israeli prisons.
The prisoners were crammed into small rooms and shared beds with other prisoners.
A Palestinian woman prisoner named Rasmiah Odeh said that as many as 150 prisoners shared a cell and some of them brought their children.
According to Odeh, those who live there have lost their freedom of expression, cannot write down their feelings, nor have the freedom to worship.
Among the women imprisoned in Nerve Tirza come from various social, religious and cultural backgrounds. Some of them are from Russia, Ethiopia, and South America.
Nearly all Palestinian detainees are those who were arrested without trial, do not have the right to have a lawyer present, and are not even allowed to visit their families.
The detainees come from various areas of occupied Palestine who are accused of carrying out acts of resistance against the Zionist regime. While their reason for fighting was simply wanting to defend their rights which were seized by Israeli forces.
Samir Subaih, a woman who has given birth in Israeli prisons, also said in a webinar that the suffering of detainees in occupation prisons was terrible and this is still going on today.
"They live in prison with extreme suffering, their health is not taken care of. The condition of detainees suffers day and night, because they are placed in very cramped rooms and are unfit for human habitation," she explained.
Samir Subaih stressed that the movement to pressure Israel must be carried out in order to release the Palestinian prisoners because they are completely innocent. In addition, the world community also continues to support and speak out for the release of the prisoners.
What we can do?
Maemuna Center as a humanitarian organization that specifically defends Palestinian women and children in 2022 organized an International Women's Conference for the Liberation of Al-Aqsa and Palestine (IWCLA).
The conference produced the Cut Meutia Declaration which consisted of 8 points, including;
Calling for the unity and integrity of the movement of all factions in Palestine as a source of resistance against the brutal acts of Zionist Israel against Palestinian women and children.
Initiating the formation of an alliance of non-governmental organizations on a national, regional and international scale to defend Palestinian women and children of the countries of the Organization of Islamic Cooperation (OIC) and the World Parliament to reject normalization of relations with Zionist Israel.
Calling on the millennial generation to increase awareness of the Palestinian issue, as well as optimize the potential and progress of information technology to oppose all types of Zionist Israeli propaganda as a form of support for the liberation Al-Aqsa and Palestine.
Inviting all women to consistently support the Palestinian people, especially Palestinian women. Condemns violations of Human Rights (HAM) committed by Zionist Israel against Palestinian women and children prisoners as well as the Murabithah.
Invitinh all Muslims women to instill education on the Al-Qur'an and Al Hadith as well as the history of Palestine to children from an early age as a basis for love for the Al Agsa Mosque and Palestine.
Calling on international advocates to participate in defending Palestinian women and children detainees by fighting for their rights violated by the Zionist Israel while in prison.
The author invites all Muslims around the world and all humanitarian activists to work together to realize the points of the Cut Meutia Declaration so that the humanitarian problems in Palestine are immediately resolved and Palestine gets independence and peace.
Source: Maemuna Center Indonesia
Wallahu a'lam bis shawab. (T/RE1/P2)
Mi'raj News Agency (MINA)