Charities Agree to Coordinate Response to Syrian Crisis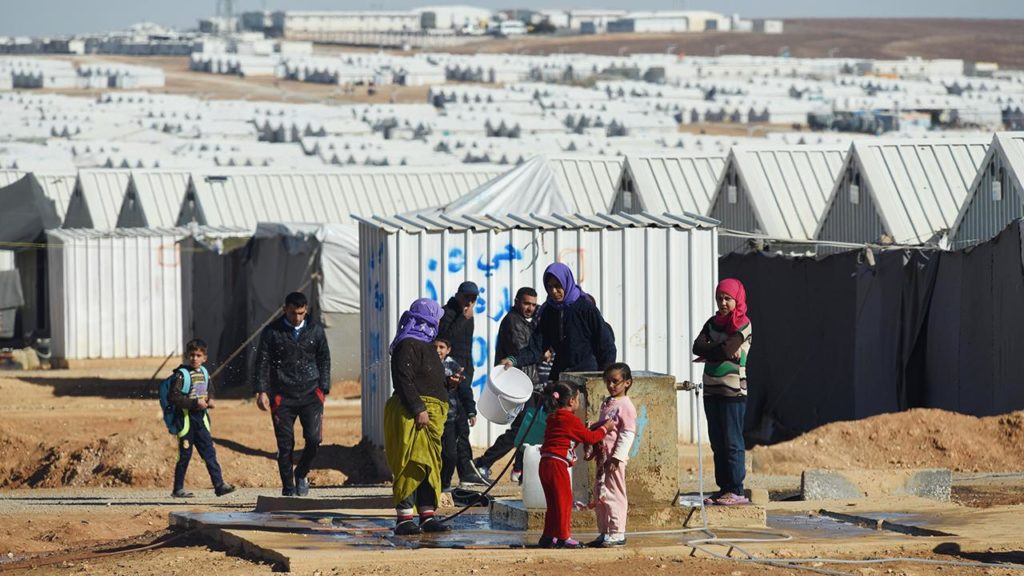 Syrian refugees get water at a camp in Azraq, Jordan.
Ankara, 25 Rabiul Awwal 1438/25 December 2016 (MINA) — The first forum on coordinating humanitarian and relief efforts for the Syrian refugees highlighted the need of scaling up the humanitarian joint life-saving effort for the displaced Syrians.
Kuwait Red Crescent Society (KRCS) coordinates with its Qatari counterpart in the delivery of relief aid to evacuees from Aleppo city, north Syria, said director of the KRCS public relations dept. Khaled Al-Zaid.
He made the statements to KUNA on the sidelines of the forum being hosted by Gaziantep city, southeast Turkey.
"KRCS and Qatar Red Crescent Society (QRCS) set a good example in responding to the tragedies resulting from the armed conflict in Syria. We work together in setting the priorities of aid efforts on the ground and ensuring the delivery of supplies to those in need without overlapping," he pointed out.
On the forum, Al-Zaid said the conferees stressed the need of networking and sharing information and experience while addressing the complicated situation of the displaced Syrians.
"Collaboration helps save time and effort for the aid workers," he explained.
Al-Zaid called for launching a joint information center to facilitate networking by the aid agencies while responding to humanitarian disaster in Syria.
He added that the participants in the gathering commended the effective cooperation between KRCS and QRCS in alleviating the suffering of the evacuees from Aleppo.
Besides KRCS and QRCS, the forum gathered representatives of the Arab Red Crescent and Red Cross Organization, Qatar Charity, the Turkish Red Crescent, the Turkish Humanitarian Relief Foundation (IHH), the Turkish Saed Charity Association, the Iraqi Humanitarian Al-Ethar Foundation and the Riyadh-based Physicians Across Continents. (T/RS05/RS01)
Islamic News Agency (MINA)