BMKG Reminds A Hydrometeorological Disaster in Central Java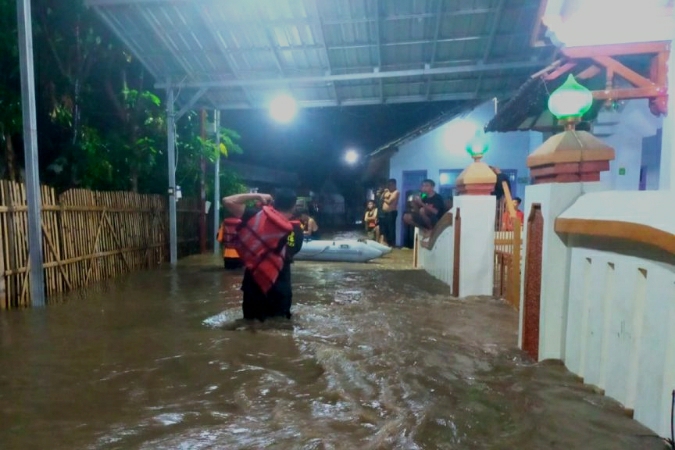 Cilacap, MINA – The Meteorology, Climatology and Geophysics Agency (BMKG) again appealed to residents to be aware of the possibility of a hydrometeorological disaster in Central Java. This is because extreme weather conditions are likely to occur in parts of the Central Java region from January 6 to 7 2023.
According to the Head of the BMKG Technician Group at the Tunggul Wulung Cilacap Meteorological Station Teguh Wardoyo in Cilacap, on January 6 extreme weather conditions had the opportunity to cover parts of Cilacap, Banyumas, Purbalingga, Banjarnegara and Wonosobo Regencies.
"Extreme weather has the potential to occur in Cilacap, Banyumas, Purbalingga, Banjarnegara and Wonosobo," he said.
Magelang Regency and City, Pekalongan Regency and City, Semarang City and Regency, and Boyolali, Sukoharjo, Wonogiri, Karanganyar, Sragen, Grobogan, Blora, Pati, Kudus, Temanggung, Kendal, Batang, Pemalang, Tegal, Brebes, Purworejo, Kebumen Regencies and the surrounding area are also likely to experience extreme weather on January 6.
Meanwhile, on January 7 2023, extreme weather is predicted to cover Pekalongan Regency and City as well as Cilacap, Banyumas, Purbalingga, Banjarnegara, Wonosobo, Purworejo, Kebumen, Temanggung, Boyolali, Grobogan, Brebes, Tegal, Pemalang, Batang, Pati, Kudus, and surrounding area.
"We urge the public to remain alert to the potential for extreme weather on January 6-7 2023, which has the potential to cause hydrometeorological disasters in the form of floods, flash floods, hail, landslides, strong winds and tornadoes, especially for people who live and live in in these disaster-prone areas," said Teguh.
Meanwhile, based on the results of an analysis of atmospheric dynamics released by the BMKG Ahmad Yani Semarang Meteorological Station on Thursday, extreme weather conditions are triggered by several factors, including active Kelvin and Rossby atmospheric waves in Java which can cause wind confluence in the Central Java region.
In addition, the relatively warm sea surface temperature with an anomaly of 0.5 degrees Celsius to 2.5 degrees Celsius in the Java Sea area can increase the potential for evaporation or addition of water vapor mass.
"Relatively high humidity and strong local lability have contributed to the formation of rain clouds in parts of Indonesia, especially Central Java," he said.
Under these conditions, rain with moderate to heavy intensity which can be accompanied by lightning and strong winds is likely to occur in parts of the Central Java region from 6 to 7 January 2023. (T/RE1)
Mi'raj News Agency (MINA)