US ‌Athlete Hopes Change in Anti-Muslim Attitude by Her Participation in Rio Olympics in Hijab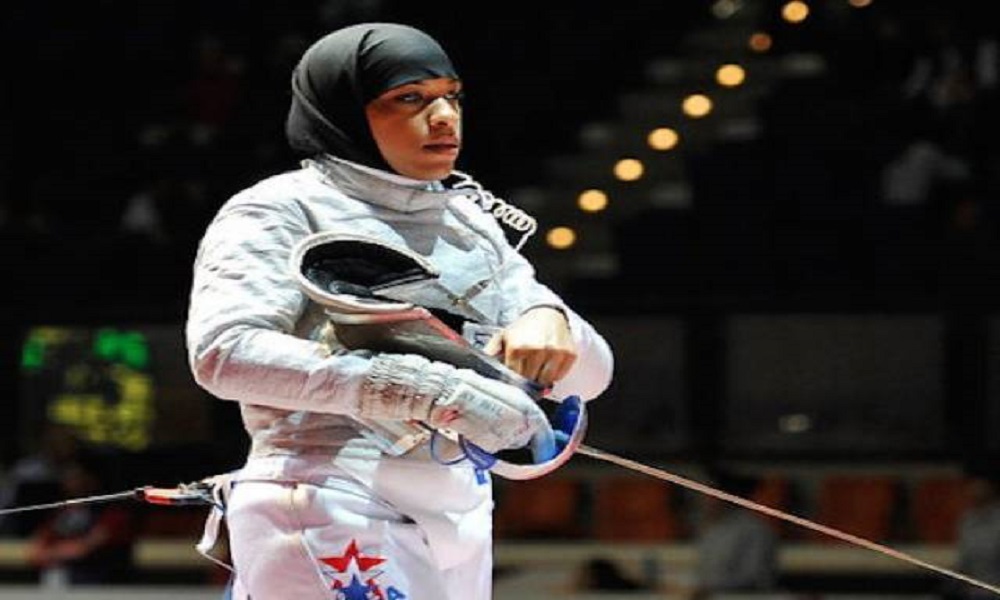 Los Angeles, 2 Jumadal Akhir 1437/11 March 2016 (MINA)- American Muslim Hijabi woman called Ibtihaj Mohammad hopes that her history-making appearance at the Rio de Janeiro Olympics will help change attitudes towards Muslims in the United States when she becomes the first American athlete to compete wearing a hijab.
The talented 30-year-old saber fencer has already guaranteed her spot on the US Olympic team after earning enough points at the World Cup in Greece in January to qualify, International Islamic News Agency (IINA) quoted by Mi'raj Islamic News Agency (MINA) as reporting.
Mohammad's qualification comes against an ugly backdrop of anti-Islamic rhetoric in the United States, with Donald Trump vowing in December to bar all Muslims from entering the country if elected. For Mohammad, the bigotry is nothing new.
She has been confronted with discrimination ever since childhood, when her skin color and hijab would often provoke lingering stares or abuse.
Mohammad hopes that her participation in the Olympics may play a small role in shifting those kinds of attitudes.
"It's a tough political environment that we're in right now, it's not easy," Mohammad told reporters on Wednesday at the US Olympic team media summit.
"Muslims are under the microscope and I'm hoping to change the image that people may have of Muslim women.
"I know that Muslim women are very, very diverse, especially here in the United States. We come in all different shapes, colors and sizes and we come from different backgrounds and are productive members of society. I want people to see that."
Mohammad would not be drawn on what life for Muslims in the United States might look like if Trump is elected to the White House in November.
"I hate to talk about what ifs," she said. "I'm hoping we can change direction a little bit and see Muslims in more of a positive light and try to combat the negative imagery that we are shown every day. Can I influence the debate? I don't know. I'm just trying to do well in Rio."
The toxic climate has brought practical concerns. After several stories involving Muslims being barred from boarding planes, Mohammad revealed she had harbored fears of suffering a similar fate during qualifiers for Rio.
"When Muslims were being kicked off flights in the middle of Olympic qualifiers that was a real worry am I going to be allowed to board my flight to make it to my Olympic qualifier?"
The fact that she is expected to speak about weighty issues relating to her race, religion and gender rather than merely her sport does sometimes take its toll, Mohammad acknowledged.
"It's something I struggle with every day. But ultimately I feel incredibly blessed to have been given this platform. And when I think of my predecessors and people who have spoken out against bigotry and hate, I feel like I owe it not just to myself but to my community to try to fight it," she said.
"You have to not just think about yourself, but everyone. And there are people in America right now who don't feel safe going to work every day, who don't feel safe in their community. That's a problem.
"I remember being a kid and people telling me I didn't belong in my sport because of my skin color, because I was Muslim. So if I can be a source of change for other minorities I feel fortunate to be able to do that."
Mohammad's athletic achievements have given her a national profile. She recently met President Barack Obama during his first visit to a US mosque, with the US leader joking he expected her to bring back a gold medal. Obama's endorsement did not leave Mohammad feeling under additional pressure to deliver in Rio.
"No not at all, I don't feel any pressure," she said.
"I feel so fulfilled and blessed to be in this position to represent Team USA." (T/P006/R07)
Mi'raj Islamic News Agency (MINA)