UN Envoy Urges Clarity From Regime At Syria Talks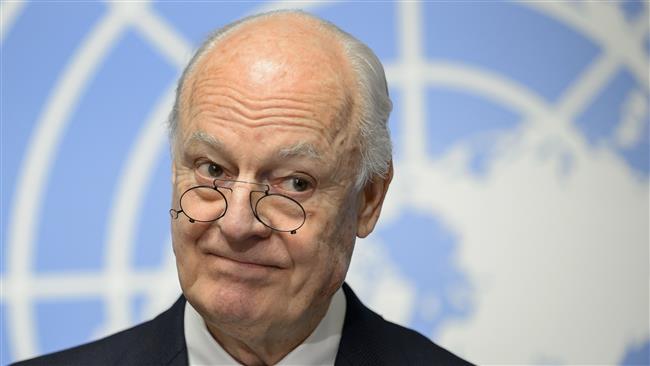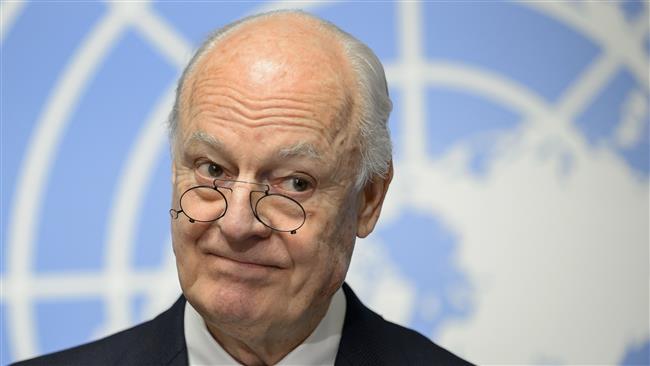 Damaskus, 10 Jumadil Akhir 1437/19 March 2016 (MINA) – The UN's Syria envoy wrapped up a week of fragile peace talks Friday with plans to meet both sides, after urging the regime put forward clear plans for political transition.
Staffan de Mistura, the United Nations mediator at the Geneva negotiations, has said agreeing on a unity government to lead Syria out of five years of civil war was the most daunting roadblock to peace.
He praised the main opposition High Negotiations Committee (HNC) for offering "substantive" plans for a transition on Thursday.World Bulletin quoted by Mi'raj Islamic News Agency (MINA) as reporting.
But the HNC has made the departure of President Bashar al-Assad an unalterable demand, while Damascus has termed any talk of the president's removal as "a red line."
De Mistura was to meet regime negotiators at 12:30 pm (1130 GMT) on Friday.
"I hope I will get similar in-depth clarity from the government" about options for political transition, the UN envoy told reporters.
He described previous talks with the regime this week as "more on the formal side."
"Time is going by," he said.
"What we need to do is start looking (at)… what the government sees as a possible political transition."
– 'The grey zones' –
Efforts to negotiate an end to the violence that has killed more than 270,000 people and displaced millions face daunting obstacles.
Acknowledging the "large" distance between the two sides, de Mistura said his goal in the coming days was to look for glimpses of common ground between the HNC and Damascus to identify what he described as "the grey zones."
HNC spokeswoman Bassma Kodmani told reporters that the opposition was weary of drawn out negotiations that ultimately lead nowhere.
"We are keen to move quickly," she said. "We are very keen to avoid a process that does not deliver."
Aside from the disputes in Geneva, the talks risk further complications from changing facts on the ground.
Syria's Kurds on Thursday declared a federal region across the several provinces they control, in a move aimed at unifying Kurdish territory and boosting autonomy.
Analysts have said the federalism call may have partly been a response to the Kurds being excluded from the current round of talks.
If the talks make progress before pausing on March 24, a second round of negotiations is tentatively scheduled for next month in which Kurdish leaders could possibly be included.
But Thursday's declaration was broadly rejected by those negotiating in Geneva.
De Mistura branded it as possibly "dangerous", while the regime said the move would "encroach on Syria's territorial unity". And the HNC slammed it as "a misadventure (that) is detrimental to the Kurdish cause and the Syrian cause in general".
The Kurds, who control more than 10 percent of Syria's territory, are considered one of the most effective forces fighting the ISIL.
Also on Thursday, Washington declared that the slaughter of Christians, Yazidis and Shiites in Iraq and Syria by ISIL extremists amounted to genocide and vowed to halt it.
– Russian deaths in Syria? –
ISIL, which controls large swathes of territory in Syria and Iraq, claimed the killing of five Russian troops in fighting near the ancient Syrian city of Palmyra.
If confirmed, the deaths could be among the first involving Russian troops since Moscow's surprise announcement this week that it would withdraw most of its forces from Syria, where they had been fighting in support of Assad.
But Russian President Vladimir Putin insisted he could ramp up his military presence in Syria "within several hours" and that his forces would not relent in their battle against extremists, including those from ISIL and the Al-Qaeda linked Al-Nusra Front.
Western governments have voiced hope that the negotiations could help the peace talks by weakening Assad's position and forcing Damascus to commit to negotiations.
De Mistura said Russian representatives had told the UN that the decision to announce the withdrawal on Monday, the day peace talks resumed, was "not (a) coincidence." (T/P002/R07)
Mi'raj Islamic News Agency (MINA)