Two Indonesian Students Create Internet-Based Methane Detection Tool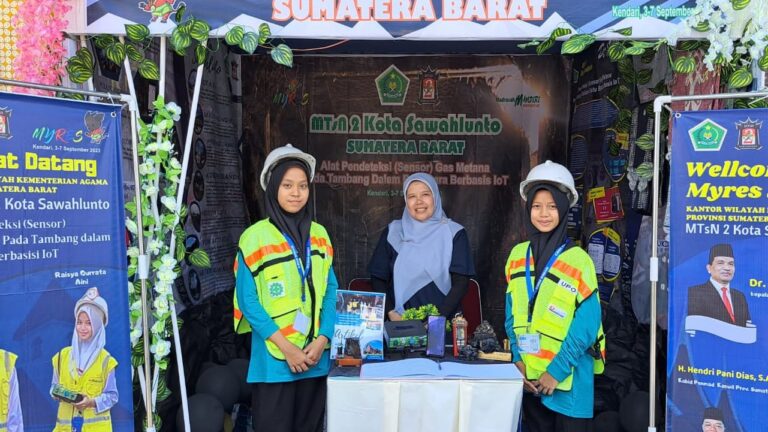 Two Indonesian Students Create Internet-Based Methane Detection Tool (photo: Kemenag RI)
Kendari, MINA – Two students of Sawahlunto City State Madrasah Tsanawiyah (MTsN) 2, Bebrina Latif Azzahra and Raisya Qurrata Aini created a methane gas sensor in a coal mine based on the Internet of Things (IoT).
The condition of Sawahlunto, where there are many mines and frequent explosions, motivated the two girls to create the tool.
"This condition motivates us to find a solution, how if the methane gas level is detected to exceed the limit, it will give a warning to workers at the mine so that they can avoid an accidental explosion and loss of life," said Bebrina in Kendari on Tuesday.
She added that previously there had been a similar detection device used in mines, but it did not connect via cell phone. Using this sensor is not as easy as using a device that is connected directly to a cell phone which can immediately provide a warning if methane gas is present.
The student at MTsN 2 Sawahlunto then tried to develop a detector that could be directly connected to a cell phone to give a warning.
"This sensor tool is based on IoT, namely technology that is able to connect several objects in terms of sensors, chip and electronic devices through the internet network, so its use really depends on whether there is an internet network," said Bebrina.
To overcome internet limitations in coal mines, the solution is to insert a LAN cable into the mine
The sensory device created by the two students is currently one of the finalists for the 2023 Madrasah Young Researcher Supercamp (MYRES), which takes place in Kendari, Southeast Sulawesi. ​​​​​​​
The Sawahlunto area, West Sumatra, has long been known as the Mining City. This nickname was given because of the large number of coal mines in Sawahlunto City.
However, in the City of Sawahlunto work accidents often occur due to methane gas explosions in coal mines.
According to the Ministry of Energy and Mineral Resources (ESDM), Coalbed Methane is natural gas (hydrocarbon) which contains methane gas as the main element. This gas is formed naturally in the coal formation process (coalification).
The odorless, colorless, and flammable character of methane gas makes miners unaware of its existence by naked eye. (T/RE1/P2)
Mi'raj News Agency (MINA)