TRAVELERS RETURNING TO JAKARTA AFTER LEBARAN BEGIN TO DECLINE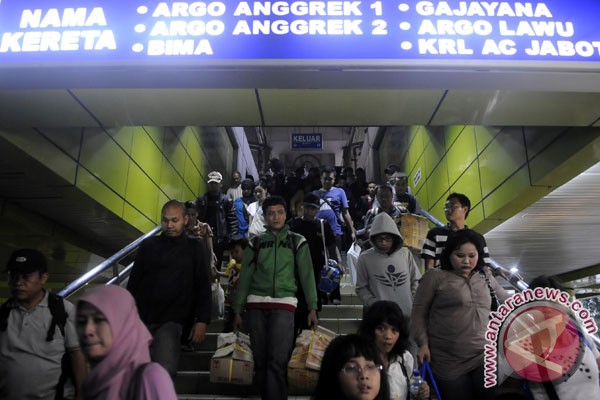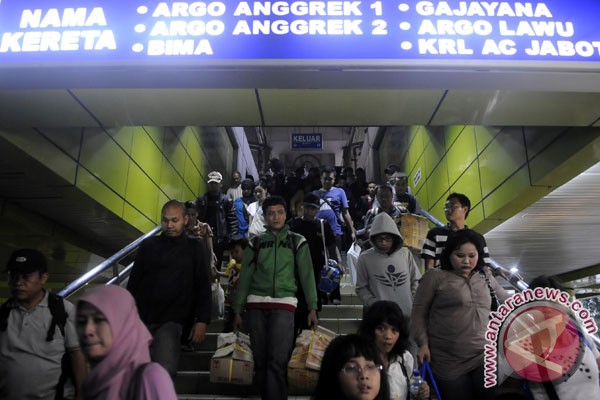 Jakarta, 11 Shawwal 1436/27 July 2015 (MINA) – Travelers returning from their hometowns after Eid continued to throng ferry ports and train stations in cities in several parts of the country on Saturday, eight days after (D+8) the festival.
But the flow of travelers is no longer as heavy as that seen several days earlier, with most of them having rejoined work on last Wednesday (July 22), Antara News  quoted by Mi'raj Islamic News Agency (MINA).
However, there are some waiting for the school holidays to end to return.
For instance, till early on Wednesday, about 88 percent of Lebaran holidaymakers from Java, who celebrated Eid in Sumatra, returned to the island. They traveled from Bakauheni Ferry Port in Lampung to Javas Merak Ferry Port.
Thousands of train passengers were also seen arriving from East Java at Senen Railway Station in Central Java on Wednesday. Also, some 9,000 passengers left from the station, with 16 train departures between 0:30 a. m. and noon local time on Wednesday.
"The flow of Eid travelers has been declining on the whole. There were only 16 train departures since early on Wednesday, with only some 9,000 passengers," the senior public relations manager of operation I area of state-owned railway company PT KAI, Bambang Setiyo Prayitno, said here on Saturday.
On Saturday, the situation at the station was different from that before Lebaran, when Governor of Central Java Ganjar Pranowo saw off some 1,216 passengers. These passengers had opted for the free-of-charge facilities of trains from Senen Railway Station to Solo, Central Java, on July 14, before Lebaran.
These facilities were part of the free mudik (trip) program the government launched seven years ago, offering buses to travelers free of cost.
On July 11, six days before Eid, the number of passengers at Senen Railway Station was up by some 40,000, reaching 180,273.
"There has been a cumulative increase in the number of passengers at Senen Railway Station," the stations deputy head, Oya Santika, pointed out.
He added that the number of passengers continued to increase from 15 days before the festival, with the highest figure of 23,238 recorded six days before Eid.
In the case of Labara, state-owned railway company PT KAI had earlier forecast that some 2.5 million passengers from across the country will choose to use trains to travel to their hometowns for the Eid Fitr or Lebaran festivities that follow the fasting month.
Indonesian Muslims commenced the fasting month on June 18. It ended on July 17. As seen in previous years, the exodus of Lebaran travelers took place seven days before (D-7) and seven days after (D+7) the festival of Eid.
The railway company prepared trains and sold an adequate number of tickets. "Tickets were available for Lebaran travelers and were arranged in a way to ensure that not all passengers could choose to depart the day of the festival or two days before it. The tickets for these days were sold out even before the day because travelers hunted for them," President Director of PT KAI Edi Sukmoro explained.
He added that of an estimated 20 million Eid Fitr travelers this year, 2.5 million were expected to use trains.
"There will be some 2.4 to 2.5 million passengers," he stated in Semarang, Central Java, while preparing transportation services for Lebaran.
Furthermore, in the face of the increasing number of passengers during the Lebaran exodus, the Directorate General of Railways of the Ministry of Transportation prepared trains. These included 410 ready-to-operate locomotives (386 chains of coaches and 24 reserves) and 1,637 ready-to-operate trains (1,523 chains of coaches and 114 reserves), among others.
The office of PT KAI for Regional Operation I (DAOP I/Jakarta) prepared 44,904 seats per day for passengers traveling both short and long distances.
Regular trains had 61 departures with 29,756 seats.
Besides, KAI DAOP I made arrangements for 13 additional trains with 15,148 seats, as well.
"KAI DAOP I had scheduled to transport 44,904 passengers per day during the Lebaran season this year," Prayitno affirmed.
Sukmoro stated that the state-owned railway company was prepared to transport passengers traveling to celebrate Lebaran in their hometowns after the fasting month.
Moreover, Director General of Railway Affairs Hermanto Dwiatmoko urged PT KAI to increase supervision, particularly in risky lanes and at crossings with no rail gates.
Also, Public Relations Manager of Operation I Bambang Setiyo Prayitno pointed out that on Wednesday, PT KAI operated additional trains to cater to 840 passengers traveling from Senen Railway Station to Kutoarjo. They departed in the early hours of Wednesday.
Till midnight the same day, most train departures, as many as four, left from Pasan Senen Railway Station for Kutoarjo.
"Even though Lebaran passed several days ago, travelers continue to arrive at Senen Railway Station to reach their destinations. However, their numbers are relatively smaller than those seen before Lebaran," Prayitno noted.
He assured the public that all departures from Senen Railway Station were operating on schedule and running smoothly with no delays.
"From 15 days before (D-15) Lebaran till seven days after (D+7) the festival, all train departures were smooth and on schedule. There were no delays or cancellations. All passengers with tickets could leave on schedule," he affirmed. (T/P010/R04)
Mi'raj Islamic News Agency (MINA)