TWO PALESTINIANS KILLED BY ISRAELI GUNFIRE IN QALANDIA, WEST BANK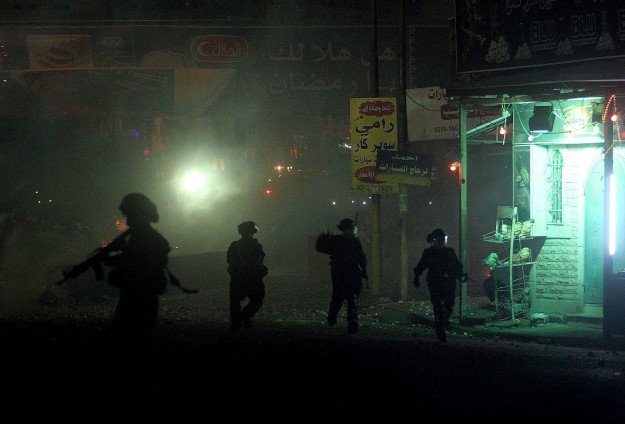 Ramallah, 27 Ramadan 1435/25 July 2014 (MINA) – Two Palestinians were killed and dozens others injured late Thursday by Israeli occupation forces gunfire during clashes at Qalandia checkpoint between Ramallah and Jerusalem, a medical official said.
Mohamed al-Araj and Majad Sufian Awwad were killed after being shot in the head by Israeli occupation troops during the ongoing clashes at Qalandia, spokesman for the Palestinian Red Crescent Mohammed Ayyad told Anadolu Agency.
More than 30 Palestinians were injured with live ammunition, including two in the head and two in the chest, eyewitnesses said, Anadolu Agency quoted by Mi'raj Islamic News Agency (MINA) as reporting.
The clashes came as thousands of Palestinians marched from Ramallah in solidarity with the embattled Gaza Strip to the northern entrance of Jerusalem.
The Palestinian Youth Initiative called for the march from the entrance of Al-Amari refugee camp in Ramallah province towards Qalandia refugee camp, located between Jerusalem and Ramallah.
"We went into the street to deliver a message to Gaza people that you don't stand alone against this brutal offensive," one of march organizers told Anadolu Agency on the condition of anonymity.
"This march is the beginning," he said. "Every night, we will go to the areas of contact with the Israeli army," he added.
In Jerusalem, similar clashes between Palestinians and Israeli occupation army erupted iftar in several areas in the holy city.
Hundreds of Palestinians went into the streets of At-Tur, As-Suwaneh, Silwan, Wadi Al-Joz, Bab a-Zahara, Ras Al-Amud neighborhoods of East Jerusalem and Al Wad Street in the the Old City, eyewitnesses told AA.
Israeli army imposed restrictions on the entry of Palestinian worshipers into Al-Aqsa Mosque complex in East Jerusalem for Ramadan's nightly Tarawih prayers.
Israeli police deployed thousands of forces and erected roadblocks at major junctions leading to the Old City.
Tension has been running high in the Palestinian territories since Israel launched a military operation – dubbed "Operation Protective Edge" – in the Gaza Strip with the stated aim of halting rocket fire from the Palestinian territory.
At least 802 Palestinians have been killed and more than 5.150 others injured in relentless Israeli attacks on the blockaded seaside enclave.
Al-Qodra said Gaza's fatalities included 190 children, 95 women and 47 elderly people.
Gaza-based Palestinian factions, for their part, have continued to fire rockets at Israeli cities in response to the ongoing Israeli occupation attacks.
According to official Israeli figures, 34 Israelis – including 32 soldiers and two civilians – have been killed since hostilities began more than two weeks ago.
Israel's "Operation Protective Edge" is the self-proclaimed Jewish state's third major offensive against the densely-populated strip, which is home to some 1.8 million Palestinians, within the last six years.
In 2008/9, over 1500 Gazans were killed – the vast majority of them civilians – during Israel's three-week-long "Operation Cast Lead." (T/P09/E01)
Mi'raj Islamic News Agency (MINA)