The Walk to Jerussalem Activists Hope to Change the Record of Balfour Declaration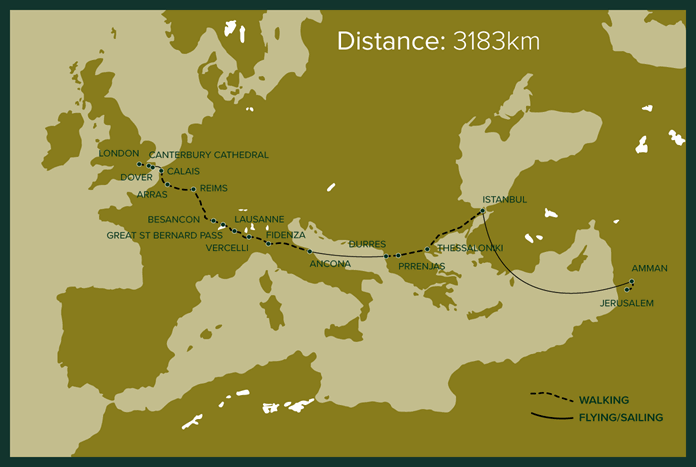 In line with the 100th commemoration of the Balfour Declaration in the next early November, dozens of activists from various countries protested in the form of longmarches from their own countries to Jerusalem (Al-Quds).
A number of activists from European and African countries made a longmarch called "Walk to Jerusalem" in various ways. The longest route was up to 3,183 km away, from London to Dover, various sections through France, Switzerland, Italy and on to Greece, Turkey and Jordan.
At the time they arrive in the West Bank, the activists will join their counterparts from Palestine and the UK as they get closer to Jerusalem, where the walk will conclude on 2nd November – the 100th anniversary of the Balfour Declaration.
"As the UK government prepares to celebrate the centenary of the Balfour Declaration and its role in creating a national home for the Jewish people, we call on our political leaders to recognise that these celebrations will only have real meaning if they are used to renew efforts toward ensuring a just peace," the group said.
"The UK government should honour its one-hundred-year-old pledge to safeguard Palestinian rights and work with others to create the framework for peace and security for all who call the Holy Land home," the group added.
Regarding this issue, Mi'raj News Agency (MINA) interviewed Chris Rose, Director of Amost Trust, an international organisation who run for the so-called the Just Walk to Jerusalem project. Here is the following interview:
MINA: How many countries are actually joining the Just Walk to Jerusalem?  
Chris: The Walk has passed through 8 countries and has three more to go. We have walkers from many different countries and those who joined along the way. The majority are British but amidst the 100 people who have done some of the walk we have also had Australians, New Zealanders, Americans, Irish, Swizz, Greek, Jordanians and Palestinians.
MINA: How's the current condition of the activists who join the walk?
Chris:  The walkers have walked 2,800 km and are 1 week away for Istanbul. There are currently 17 walking – 9 who have walked the whole way and 8 more who have joined for the journey from Thessaloniki to Istanbul.
MINA: Why did you choose the Walk as your campaign to mark the  Balfour Declaration?
Chris:  We wanted an act that was symbolic and caught people's imagination, which showed a costly solidarity with Palestinians denied their freedom of movement and with peacemakers on the long road to peace and justice. Also an act which would be of penance as Britain has to take responsibility for the situation. As Bishop Michael Doe recently said 'We British, who made the Declaration, have an unfinished responsibility to ensure the implementation (of the second half of the Balfour Declaration) ,' he continued. 'We reneged on that promise to the Palestinians. There are moral and legal obligations which we should not shun.'
MINA: When the activists has arrived in Jerusalem, what would the protest be?
Chris: We will be sent off by Palestinian friends and colleagues form the Walled Off hotel in Bethlehem, we will leave from a figurine of Balfour, that Banksy has placed there, of him signing the original declaration and leave this behind to walk up to jerusalem where we will present the British High with a new Declaration the 'Boris Declaration' calling for full equal rights for all who call the Holy Land home.  We will then finish with an act of pence and in St Georges cathedral.
MINA: The current situation in Palestine is getting worse since Israel continues violating the two-state solution by pursuing the ilegal settlement buildings in the occupation land, what do you see on it?
Chris:  The situations getting worse and the signs of hope are harder to see – in Gaza this is  especially the case. In 2012 the UN said that Gaza would be unliveable by 2020. I was recently invited to participate in a panel discussion at the Conservative Party Conference on Gaza and most of us in attendance felt that recent developments has meant that that moment has already arrived. The population currently experiences only 2- 3 hour of electricity a day. Hospitals, schools and numerous essential services rely on generators that rely on scarce resources and non essential medical operations are cancelled. The main sewage works, already damaged by previous conflicts, now only works to a fraction of its capacity and raw sewage is pumped into the sea. Desalination plants and domestic water pumps cannot work properly resulting in people having unclean water to drink. Permissions to travel for essential operations are at half of the last year's level and essential medical supplies are at a desperately low level.
MINA: As your organisation demand to change the record of the declaration, do you think there is still ways to make it happen?
Chris:  Yes we do. We are committed to investing in civil society groups that are committed to ending the occupation and achieving a just peace with full equal rights. The non violent movement is firmly established in Palestine and in Israel there are sign of a new movement emerging. We are committed to Boycott, Divestment and Sanctions and believe that in the UK divestment is a crucial tool, we also believe that taking people to visit and see for themselves is crucial. We must also not underestimate the power of solidarity.
MINA: Amos Trust mentioned that British government was responsible to what's happening in Palestine, what are your messages to the government?
Chris: Our message is to recognise their moral responsibility to Palestinians and stop playing lip service to a failed peace process, by taking a lead in promoting a response that will bring achieve a long term resolution.
MINA: It's been almost 50 years Israel annexing the land of Palestine, what do you see on it?
Chris:  Israel annexed the area around Jerusalem- which is not recognised by the international community. It essential that Jerusalem remains a place where the three Abrahamic religion can come and worship and that it once again has equal access for Israelis and Palestinians.
MINA: Palestinian President Mahmoud Abbas recently said that there's no other way than one-state solution for Palestine, as Israel continues the settlement building in the Palestinian lands. What do you say?
Chris:  I do not think it is for People from the UK to suggest a final solution as that is what started this – we are committed to a just peace and full equal rights for all who call the Holy land home
MINA: Can you elaborate more about Amos Trust beside building as a creative human right organisation. What are your goals?
Chris: Our goals are to raise awareness of situations injustice, to build hope (which we also see as being about building involvement) and to create change by working with vibrant grassroots partners who are developing local responses to global issues. We focus on a just peace for Palestine, the rights of children the streets and especially girls on the streets and on proving sustainable community programes that respond to the  impact of climate change.
MINA: What is your next step after the protest for pursuing the goal of the Walk?  
Chris: As soon as the Walk is finished we return London to join the protest on Novemebr 4th – we are then  working on  inactivates to mark the 70th anniversary of the Nakba – when 800,000 Palestinians had to flee their homes and still have their right to return realised.(WE/RE1/P2)
Mi'raj News Agency (MINA)