TENS THOUSANDS OF LONDON PEOPLE  PROTEST ISRAELI ATTACKS ON GAZA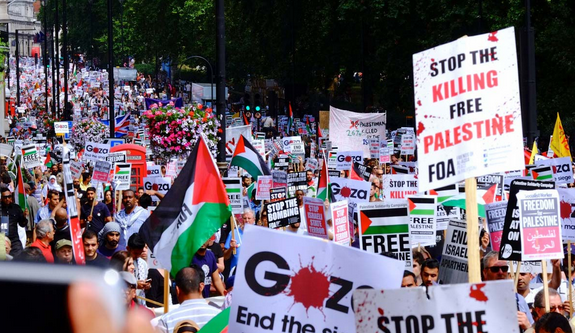 London, 22 Ramadan 1435/20 July 2014 (MINA) – Tens of thousands of protestors descended upon London's streets on Saturday (19/7), to condemn Israel's attack on Gaza.
Despite the blazing heat Palestine supporters continued chanting slogans such as "free Palestine" along the 3 mile march from Downing Street to the Israeli Embassy.
Along the way, London hotspots such as The Mall and Knightsbridge were transformed into a sea of Palestinian flags, dotted with placards emblazoned with "stop the killing" and "end the siege."
Whitehall, Hyde Park, Piccadilly and Trafalgar Square were all closed due to the scale of the protest, Middle East Monitor (MEMO) quoted by Mi'raj Islamic News Agency (MINA) as reporting.
The national demonstration was called for by the Palestine Solidarity Campaign, Friends of Al-Aqsa, Stop the War Coalition, British Muslim Initiative, Palestinian Forum in Britain, Muslim Association of Britain, Islamic Forum in Europe and the Israeli Coalition against House Demolitions (UK).
Sarah Colborne, Director of Palestine Solidarity Campaign, said prior to the march, "London has already shown its outrage at Israel's attacks on the mostly refugee population of Gaza, with people turning out in their thousands last week."
"Saturday's national demonstration will give people from across the country the chance to say enough is enough, Israel's siege of Gaza and its occupation of Palestinian land has to end now. People want justice and freedom for the Palestinians, and they will be voicing this in their thousands on Saturday."
Sarah Clayton, a demonstrator from London, said, "We have come out today to say to the world that we have had enough of Israel's war crimes in Gaza." Another protestor commented, "We stand with Gaza and against what is happening to its people."(T/Nidiya/E01)
Mi'raj Islamic News Agency (MINA)