Surprise Moment of Group Hug by Jokowi and His Political Arch-Rival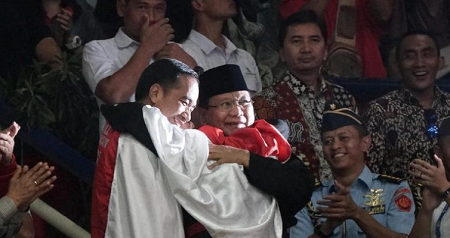 Jakarta, MINA – An extraordinary moment happened at Asian Games when President Joko Widodo who seeks re-election for the second term  and General Chairman of Indonesian Pencak Silat Association (IPSI) and Jokowi' s political nemesis Prabowo Subianto made a group hug to celebrate gold medal won by Hanifan Yudani Kusumah here Wednesday.
Hanifan Yudani Kusuma, who won a gold medal in pencak silat in the final of the men's Class C (55 kilograms to 60 kg), united the two presidential candidates through a group embrace when he came to their VVIP seats to greet them after his victory.
Hanifan celebrated his success in an unusual way. He went around and greeted several state figures in the VIP stands then suddenly hugged Jokowi and Prabowo together.
The audience who attended at Pencak Silat Hall  at the Beautiful Indonesia in Miniature Park (TMII) in Jakarta immediately gave applause.
This is a rare event that should be a "panacea" which can reduce high temperatures between Jokowi's and Prabowo's supporters. Few days ago, both of two groups involved in a problem that caused them in debate.
The moment will also be a great historical record for Indonesian democracy before those duo rivals compete to become the number one in the Republic. Moreover, there are some figures who eternalized the moment and prayed for Indonesian unity to be maintained and lasted.
For example is Indonesian vice presidential candidate, Sandiaga Solahuddin Uno. Through his Instagram account, Sandi claimed feeling goose bumps when he saw Jokowi and Prabowo embraced each other.
"I touched when watching this moment. It is not only because Hanifan won gold medal but also when he embraced two figure, Jokowi and Prabowo, "Sandi wrote.
Sandi added, at the upcoming presidential election must continue to uphold unity. He also quoted Prabowo's statement, "We may disagree about something, but one, if it concerns national interests we must unite," Sandi wrote.
Not only Sandi, West Java's elected governor, Ridwan Kamil also commented on his Instagram account. "Aah, the beauty of Indonesia if it continues like this. Adeeem. Hopefully, it will be imitated by the grassroots. A moment that happens in the final martial arts. #asiangames."
President Jokowi also gave a funny comment which makes the audiences roar with laughter.
"I was hugged by Hanifan and  also was with Prabowo. I don't know how it's been taken together, but it's clearly happened. Ha..ha..ha …, Jokowi make reporters laugh loudly after watching the final of the martial arts. (A/R06/P2/RS5)
Mi'raj News Agency (MINA)