SUCCESSFUL HIJAB DAY MARKED WORLDWIDE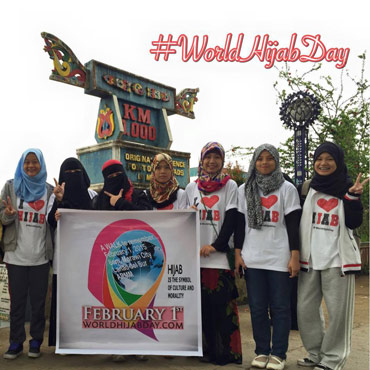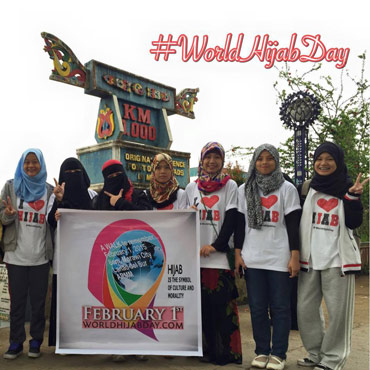 Cairo, 13 Rabi'ul Akhir 1436/3 February 2015 (MINA) – Responding to a call to support Muslim women's right to don Islamic hijab, thousands of Muslims and non-Muslims have taken to the social media to post their photos in the Islamic attire, giving World Hijab Day a huge success in its third year.
"My support goes out to all brave women who wear a hijab. Love from Brunswick, Mains! Happy World Hijab Day," one tweet posted from @WorldHijabDay account said, On Islam quoted by Mi'raj Islamic News Agency (MINA) as reporting.
"Hijab has taught me that there is more to a woman than just her hair and her skin.There is her mind, character, and her love. #WorldHijabDay," @Zaynfanforever tweeted.
On February 1, millions Muslim and non-Muslim women wearing a traditional Islamic head scarf will march on the streets of 116 countries to mark the third anniversary of World Hijab Day.
The World Hijab Day, held for the third consecutive year, is the brain child of a New York resident, Nazma Khan, who came up with the idea as a means to foster religious tolerance and understanding.
Suggesting the event, Khan wanted to encourage non-Muslim women to don the hijab and experience it before judging Muslim women.
She also saw the event as a best chance to counteract some of the controversies surrounding why Muslim women choose to wear the hijab.
This year, Khan told reporters she's hoping to mobilize over 10 million women across the globe.
The successful event saw the hashtag #WorldHijabDay trending both on Facebook and Twitter. "Muslim women wearing #Hijab You proved that women can truly be so brave as well as beautiful deep inside," Egyptian thinker Fadel Soliman tweeted on Monday.
"Hijab doesn't cover a woman's weaknesses,rather it displays the strength built on the love of Allah," another tweet by TruthCaller  added.
Official Support
Melissa Blake, mayor of the Wood Buffalo, Alberta (Canada) put on a hijab to participate in WHD. The successful event drew support from some officials who decided to show support to their Muslim community.
One photo posted on WHD page showed Melissa Blake, mayor of the Wood Buffalo, Alberta (Canada) while putting on a hijab to participate in WHD. The photo was accompanied with a "Thank you!" message from moderators of the page.
Other supporters sent their photos in hijab to World Hijab Day official Facebook page. One of them is Ulrika from Sweden. "We're from Sweden. My friend always uses Hijab so I really wanted to see what it was like. We went shopping and it didn't feel strange at all, I liked it. Great initiative on WHD's part," she wrote.
Marieke, a non-Muslim from Germany, has also posted her photo in hijab. "I am a non-Muslim, but I support World hijab day! Hijab is so beautiful. I have so much respect to all women who wear it," she wrote.
"Covering up should be a free choice! I may not be Muslim or religious but I support the beauty a hijab can bring to a woman," Freja Lindberg, Denmark, wrote.
Another photo for Keely, another non-Muslim, showed her in her church while donning hijab. "On my way to Church," Keely wrote.
Robin Tracy, an American Christian, also attended her church on Sunday in a hijab.
"I worshipped in my Presbyterian church this morning, wearing Hijab. This is me with my pastor, who has been very supportive of my participation in WHD, even asking how he can support & celebrate WHD as a man," she wrote. (T/P011/R03)
Mi'raj Islamic News Agency (MINA)