UN SECURITY COUNCIL CALLS FOR GAZA CEASEFIRE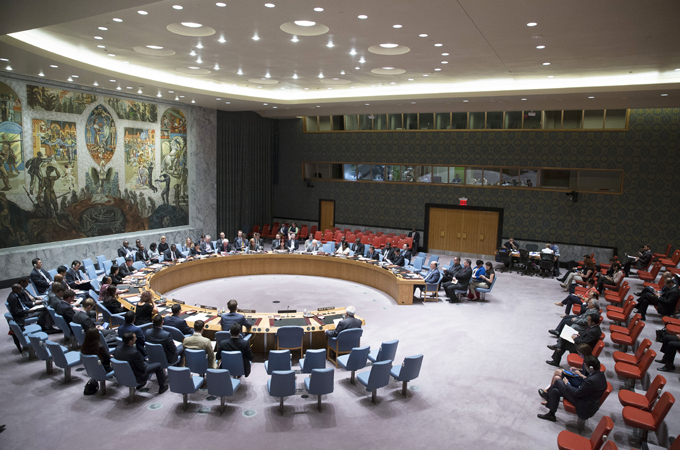 New York, 1 Syawwal 1435/28 July 2014 (MINA) – UN Secretary-General Ban Ki-moon said the sides in the Gaza conflict have "expressed serious interest" in his request for a further 24 hour humanitarian ceasefire as the UN Security Council called for "an immediate and unconditional humanitarian ceasefire" in the war during an emergency meeting.
The council met just after midnight on Monday morning as Muslims started celebrating the Eid al-Fitr holiday marking the end of the fasting month of Ramadan, Al Jazeera and international news agencies quoted by Mi'raj Islamic News Agency (MINA) as reporting, Monday.
Israeli Prime Minister Benjamin Netanyahu criticised the council's call for an immediate humanitarian truce in Gaza, saying it had addressed needs of Hamas while neglecting Israeli security.
Al Jazeera's Nicole Johnston, reporting from a UN school shelter in Gaza, reported a subdued Eid.
"They would normally be visiting their extended families, exchanging gifts, but instead 3,000 people are living here inside this school with around 30 people per room," she said.
"They say there aren't enough blankets or water or food. They don't know how long they'll be here for and they are desperate for a ceasefire."
The pressure for a ceasefire followed new attacks launched by Israel and Hamas on Sunday despite going back and forth over proposals for another temporary halt to nearly three weeks of fighting.
A 12-hour lull on Saturday, agreed to by both sides following intense US and UN mediation efforts, could not be sustained.
The 20-day war has killed more than 1,035 Palestinians, mainly civilians, according to the Palestinian Health Ministry.
Israel has lost 43 soldiers, as well as two Israeli civilians and a Thai worker killed by rocket and mortar attacks from Gaza, according to the Israeli military.
An unofficial, partial truce is being observed by Israel in the Gaza Strip on Monday, Israeli military sources said.
A military spokeswoman in Tel Aviv confirmed that the air force was not carrying air strikes. But Israeli ground troops continue to search for and destroy tunnels in Gaza's eastern border areas.
The Security Council statement urged Israel and Hamas "to accept and fully implement the humanitarian ceasefire into the Eid period and beyond".
It said this would allow for the delivery of urgently needed assistance.
The presidential statement also called on the parties "to engage in efforts to achieve a durable and fully respected ceasefire, based on the Egyptian initiative".
Fighting had subsided in Gaza on Sunday after Hamas said it backed a 24-hour humanitarian truce.
Some firing of rockets continued after the time that Hamas had announced it would put its guns aside, while Israeli artillery guns also fired barrages into Gaza, Israeli media reported.
Palestinian medics said, however, that at least 10 people died in the wave of subsequent strikes that swept Gaza, including a Christian woman whose house in Gaza City was struck by an Israeli bomb.
'Grave concern' expressed
The Security Council statement was drafted by Jordan, the Arab representative on the UN's most powerful body.
Presidential statements become part of the council's official record and must be approved at a council meeting. They are a step below Security Council resolutions, but unlike resolutions they require approval of all 15 members.
The statement never names either Israel or Hamas. Instead, it expresses "grave concern regarding the deterioration in the situation as a result of the crisis related to Gaza and the loss of civilian lives and casualties".
The statement calls for "full respect" for international humanitarian law and reiterates "the need to take appropriate steps to ensure the safety and well-being of civilians and their protection".
Al Jazeera's Diplomatic Editor James Bays, reporting from West Jerusalem on Monday, said neither the Israelis or the Palestinians were happy with the Security Council statement.
"There are only subtle changes in this statement, from what we saw early on in the conflict," he said.
Our correspondent also said the Israeli media was full of reports expressing distrust of Kerry's peace efforts.
So far, the US-led diplomatic efforts have shown little sign of progress. Israel and Hamas have set conditions that appear irreconcilable.
Hamas wants an end to the Israeli-Egyptian economic blockade of Gaza before agreeing to halt hostilities. Israel has signalled it could make concessions towards that end, but only if Hamas is stripped of its weapons.
"Hamas must be permanently stripped of its missiles and tunnels in a supervised manner," Naftali Bennett, a member of the Israeli security cabinet, said on Facebook. "In return we will agree to a host of economic alleviations." (T/E01/IR)
Mi'raj Islamic News Agency (MINA)