SAUDI POUNDS YEMEN HOUTI CAMPS, ARAB ALLIES GATHER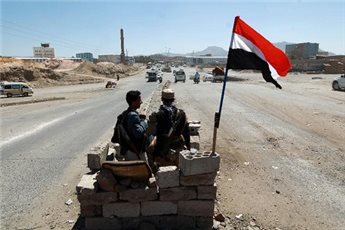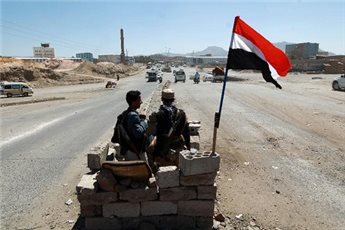 Sanaa, 8 Jumadil Akhir 1436/ 28 March 2015 (MINA)- Saudi-led coalition warplanes bombed Houti camps in Yemen for a second day, as President Barack Obama said the United States shared a "collective goal" with its regional ally to see stability in the war-torn state.
Obama offered support to Saudi ruler King Salman in a phone conversation as it emerged the US military had rescued two Saudi pilots forced to eject from their fighter jet in the region on Thursday.
A months-long opposition by Shiite in Yemen has escalated into a regional conflict that threatens to tear apart the impoverished state at the southern tip of the Arabian Peninsula, Ma'an News Agency quoted by Mi'raj Islamic News Agency (MINA) as reporting.
Sunni-ruled Saudi Arabia has vowed to do "whatever it takes" to prevent the fall of embattled President Abedrabbo Mansour Hadi, accusing Shiite Iran of "aggression" and of backing the Huthi rebels' power grab.
Amid the air raids and scattered fighting, a call for a ceasefire was issued by former president Ali Abdullah Saleh, suspected of being allied with the rebels.
At least 39 civilians have been killed in Saudi-led Operation Decisive Storm against the Huthis and their allies, officials at the opposition-controlled health ministry in Sanaa said.
Twelve died when residential areas were hit in a raid on a military base north of the capital, the officials told AFP.
Strikes hit the rebel-held presidential compound in south Sanaa, as well as various military sites outside the capital including rocket launchers at the airport, witnesses said.
Warplanes also bombed a Huthi-controlled army brigade in Amran province north of Sanaa, and arms depots in the northern rebel stronghold of Saada, residents said.
And an army unit loyal to Saleh, along with Shiite militiamen, captured two villages in Abyan province, near the main southern city of Aden, where Hadi took refuge after fleeing Sanaa last month, military sources said.
At least 21 were killed Friday when tribesmen ambushed their vehicles north of Aden, a local official said.
Arab League summit
Hadi, backed by the West and Gulf Arab states, flew to Egypt for a weekend Arab League summit set to be dominated by Yemen.
He traveled from Riyadh after making his way from Aden as the rebels advanced on the city.
Saudi Arabia says more than 10 countries have joined the anti-Huthi coalition.
Reports said Saudi Arabia has deployed 100 warplanes, with another 67 coming from the United Arab Emirates, Kuwait, Qatar and Bahrain.
Saudi Arabia has reportedly also mobilized 150,000 troops near the border.
The coalition said all members had contributed to the operation, with UAE warplanes "intensively" participating in the strikes.
The coalition now completely dominates Yemen's airspace, and aircraft seized by the Huthis have been destroyed, spokesman General Ahmed Assiri said in Riyadh.
Iran has reacted furiously to the air strikes, calling them a violation of Yemen's sovereignty.
"Any military action against an independent country is wrong and will only result in a deepening crisis and more deaths among innocents," Foreign Minister Mohammad Javad Zarif said.
The conflict has raised a major hurdle to Washington's longstanding drone war against Al-Qaeda militants who have exploited the power vacuum since Saleh's downfall in 2012.
Obama support
The White House said Obama had offered US support to King Salman during a call with the Saudi ruler, saying the United States shared a "collective goal" with the kingdom to see stability in Yemen.
"The president reaffirmed the strong friendship between the United States and Saudi Arabia and emphasized the United States' support for the action taken by Saudi Arabia, Gulf Cooperation Council members, and others in response to President Hadi's request and in support of the legitimate government of Yemen," said National Security Council spokeswoman Bernadette Meehan.
King Salman, meanwhile, thanked the US for rescuing two Saudi pilots who ejected off Yemen's coast in international waters.
Saudi authorities confirmed the rescue over the Red Sea on Thursday night, the Saudi Press Agency (SPA) reported.
"An F-15S plane suffered a technical problem last night (Thursday) while over the Red Sea, forcing the ejection of its two pilots," SPA quoted an official at the Ministry of Saudi Arabia Defense, as saying.
"The two pilots were rescued in cooperation with the US side," he continued.
Washington has pledged logistical and intelligence support for the Saudi-led campaign. (T/P010/R03)
Mi'raj Islamic News Agency (MINA)