SAUDI ARABIA HAJJ DISASTER DEATH TOLL AT LEAST 2,121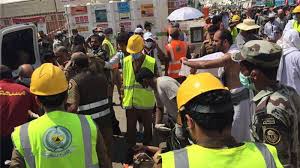 Mecca, 6 Muharram 1436/19 October 2015 (MINA) –  The crush and stampede that struck the hajj last month in Saudi Arabia killed at least 2,121 pilgrims, a new Associated Press tally showed Monday, after officials in the kingdom met to discuss the tragedy.
The toll keeps rising from the Sept. 24 disaster outside Mecca as individual countries identify bodies and work to determine the whereabouts of hundreds of pilgrims still missing. The official Saudi toll of 769 people killed and 934 injured has not changed since Sept. 26, and officials have yet to address the discrepancy, Ahram online reported.
Crown Prince Mohammed bin Naif bin Abdul Aziz, who is also the kingdom's interior minister, oversaw a meeting late Sunday about the disaster in Mina, according to the official Saudi Press Agency. The agency's report did not mention any official response to the rising death toll.
"The crown prince was reassured on the progress of the investigations," the SPA report said. "He directed the committee's members to continue their efforts to find the causes of the accident, praying to Allah Almighty to accept the martyrs and wishing the injured a speedy recovery."
King Salman ordered the investigation into the disaster, the deadliest in the history of the annual pilgrimage. It came after a crane collapse in Mecca earlier that month killed 111 worshippers, and the twin disasters marred the first hajj to be overseen by the king since he ascended to the throne at the start of this year.
The Saudi king holds the title of "Custodian of the Two Holy Mosques," and the monarchy's supervision of the hajj is a source of great prestige in the Muslim world. Riyadh has rejected a suggestion by Shiite power Iran, its main regional rival, to have an independent body take over planning and administering the five-day hajj pilgrimage, which is required of all able-bodied Muslims once in their lifetimes.
The AP count of the dead from the Mina crush and stampede comes from state media reports and officials' comments from 30 of the over 180 countries that sent citizens to the hajj.
Iran leads all the affected countries, saying it had 465 pilgrims killed. Many of the dead also came from Africa. Nigeria said it lost 199 people, while Mali lost 198, Cameroon lost 76, Niger lost 72, Senegal lost 61, and Ivory Coast and Benin both lost 52.
Others include Egypt with 182, Bangladesh with 137, Indonesia with 126, India with 116, Pakistan with 102, Ethiopia with 47, Chad with 43, Morocco with 36, Algeria with 33, Sudan with 30, Burkina Faso with 22, Tanzania with 20, Somalia with 10, Kenya with eight, Ghana and Turkey with seven, Myanmar and Libya with six, China with four, Afghanistan with two and Jordan and Malaysia with one.
The previous deadliest-ever incident at hajj was a 1990 stampede that killed 1,426 people.(T/R04/R03)
Mi'raj Islamic News Agency (MINA)