RELIGIOUS FREEDOM IN IBRAHIMI MOSQUE: STRUGGLE FOR SURVIVAL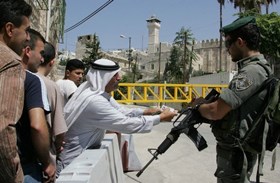 Al-Khalil, 11 Sya'ban 1436/29 May 2015 (MINA) – "History will always remember that Muslims in the occupied Palestinian territories were even banned to perform their call to prayers in the Ibrahimi Mosque. This is just a scar on Israel's face," a Muslim worshiper told a PIC journalist with tears in his eyes.
"How on earth can Arabs and Muslims keep mum as Israelis dare preventing us from performing our call to prayers?" he wonders, remembering with excruciating bitterness how the Israeli occupation has done it all to violate Muslims' religious freedom in the occupied Palestinian territories, Palestinian Information Center (PIC) quoted by Mi'raj Islamic News Agency (MINA) as reporting.
"We, Palestinians, have seen it all under the desecrating grips of the Israeli usurpers, who have torched our Mosques, denying our people access into their places of worship, and even turning some of them into pubs," he further lamented.
Head of the Ibrahimi Mosque, Mondher Abu al-Feilat, meanwhile, told the PIC that the Israeli occupation authorities have forbidden the Muslim call for prayer through the loudspeakers of the Ibrahimi Mosque in al-Khalil after claiming that it bothers settlers who visit the Jewish part of the mosque during Jewish holidays.
He warned of the serious repercussions of the fact that Israelis forbade Adhan at the minarets of the Ibrahimi Mosque, dubbing the ban an unwarrantable violation of religious freedom.
"If every time Israeli settlers would celebrate a given holiday or hold a person's funeral procession, Adan would be banned the day may come when Israelis would hold sway over every single inch of the Mosque," he further stated.
He said vigils and sit-ins at the Ibrahimi Mosque are the only key to foil Israeli Judaization plots and uphold the inherently Islamic character of the holy site.
For his part activist Hisham Sharbati said the Israeli occupation has cracked down on the non-violent Muslim congregation at the Mosque via a preplanned policy of terrorism so as to set the stage for a quasi-total monopoly of the Mosque. (T/P006/R03)
Mi'raj Islamic News Agency (MINA)