QATAR SOLIDARITY WALK FOR 3 MUSLIM STUDENTS KILLED IN US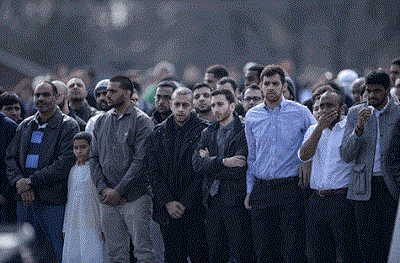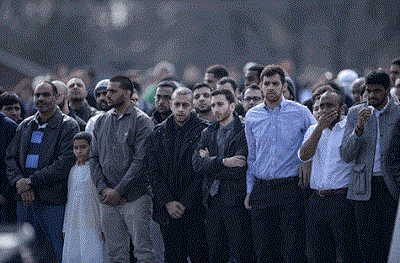 Doha,  25 Rabi'ul Akhir 1436/15 February 2015 (MINA) – A solidarity walk for three Muslim students shot dead in the US last week will be held in the Qatari capital Doha on Sunday, amid outpouring of emotion in the Muslim world where people saw the murders as a hate crime and an act of terrorism.
In the US on Thursday, more than 5,000 people gathered for the funeral of Deah Shaddy Barakat, 23, his new wife Yusor Mohammad Abu-Salha, 21, and her 19-year-old sister Razan Mohammad Abu Salha, who authorities say were killed by a neighbour in the North Carolina university town of Chapel Hill.
The alleged shooter, Craig Stephen Hicks, 46, was believed to be strongly opposed to religion, as his Facebook page showed dozens of anti-religious posts, including proclamations denouncing Christianity, Mormonism and Islam, Gulfnews quoted by Mi'raj Islamic News Agency (MINA) as reporting.
In Doha, the Qatar Foundation said it is organising a solidarity walk on Sunday "to condemn this act of terrorism and show their solidarity and support to the families of the victims."
"The sad deaths of Deah Shaddy Barakat, his wife, Yusor Mohammad Abu Salha, and her sister, Razan Mohammad Abu Salha, have shocked people around the entire world. The community at Qatar Foundation has been particularly touched by the tragic events as these students' academic pursuits and their charitable endeavours are reflected in QF's mission to unlock human potential and promote education and community development in Qatar and beyond," according to a statement by the foundatin.
The solidarity walk from Hamad Bin Khalifa University Student Centre starts at 2:30pm and will proceed to the Education City Ceremonial Court, where a minute of silence will then be observed and students will say some remarks.
Harsh criticism on social media
The initial silence by US leaders to condemn the killings and the light media coverage received harsh criticism from social media users and fueled feelings of resentment against perceived bias.
Turkish President Recep Tayyip Erdogan was among the most vociferous leaders to criticise the initial silence of the US administration.
"If you stay silent when faced with an incident like this, and don't make a statement, the world will stay silent towards you," he said. "As politicians, we are responsible for everything that happens in our countries and we have to show our positions."
On Friday, US President Barak Obama condemned the "brutal and outrageous murders" as federal investigators said they had launched an inquiry into whether the killing was a hate crime.
"No one in the United States of America should ever be targeted because of who they are, what they look like, or how they worship," Obama said in a statement.  "Michelle and I offer our condolences to the victims' loved ones.  As we saw with the overwhelming presence at the funeral of these young Americans, we are all one American family.  Whenever anyone is taken from us before their time, we remember how they lived their lives."
US police said they were investigating Tuesday's fatal shootings as a parking dispute, but victims' families repeated their belief the attack was religiously motivated.
The Federal Bureau of Investigation said it had launched a parallel probe into the killings. Federal prosecutors often look into suspected hate-crime cases — a conviction for "hate crime" results in a tougher sentence.
"We are definitely certain that our daughters were targeted for their religion," the father of the sisters, Mohammad Abu-Salha, told AFP.
"This is not a parking dispute, these children were executed with shots in the back of the heads," he said, surrounded by tearful family members as they prepared for the final funeral prayer.
"This has hate crime written all over it and I'm not going to sit down for it," he said later before three caskets.
He said his daughter Yusor had complained that Hicks had harassed her, and appeared at her door to complain about a parking space with a gun holstered at his waist.
Neighbours recalled Hicks as troublesome, frequently squabbling with nearby residents over parking and seen with his gun in public, according to local media reports.
The killings rattled the Chapel Hill community, fuelling fears among some Muslims in the tight-knit university town, but officials say it did not appear to be part of a broader anti-Muslim campaign.
"To be honest, it makes me more scared because I have two babies so I don't even want to imagine," said Sarah Alhorani, a former student at University of North Carolina, where Barakat was a second year dentistry student.
"I was scared to walk out my door, but I did and I kept going and I kept my scarf on and you keep moving on," said Alhorani, a friend of all three victims.
Some Muslim leaders said the shooting was a reflection of wider anti-Muslim hostility, and warned it could sow fear among Muslim-Americans.
"People are very concerned about what happened. They feel that this is a premeditated hate crime," Nihad Awad, director of the Council on American-Islamic Relations, told AFP.
But there were calls for calm and leaders urged restraint.
"It's time to mourn but it's also time to call for harmony and peace," the head of the Islamic Association in neighbouring Raleigh, Mohammad Elgamal, told AFP.
There are some 65,000 Muslims in North Carolina, which has a population of 9.9 million, and the majority live in the Chapel Hill area.
The killings sparked outrage among Muslims worldwide, with the Twitter hashtags #ChapelHillShooting and #MuslimLivesMatter trending globally.
Mohammad Abu-Salha rejected skewed perceptions of Muslims, and said the slain youngsters and the support they garnered were exemplars of the faith.
Relatives and friends honoured the trio at a traditional Muslim service.
Tearful crowds followed the funeral hearse to an outdoor service, where thousands gathered to kneel and pray.
"If you loved them, know that we are proud of them that they are Muslim," said Noumann Siddiqui, Islamic Council member.
"All of us, Muslims, Christians and Jews alike put love in our hearts. All lives matter."
The victims' parents wept as their children were buried, the sisters together in one grave next to Deah, while prayers echoed from the crowd.
Deah and Yusor were married on December 27, and the new bride was set to attend UNC dentistry school in August.(T/P009/P3)
Mi'raj Islamic News Agency (MINA)